32 NIGERIANS DIE IN COTONOU IN 12 MONTHS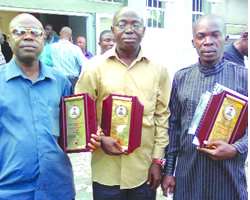 After eight years of meritorious service, the Chief Emmanuel Uko Elendu-led Nigerian Community Union (NCU) in Cotonou bowed out penultimate Saturday, July 29, 2011. The handing over ceremony offered a golden opportunity for hundreds of Nigerians to come together again.
Personally, the occasion was nostalgic for me, for I was there when the outgone leaders assumed office in 2004. And, reminiscent of that event, which took place around Hall des Arts; we once again enjoyed the company of Pa Ibrahim Adewunmi, Chief Ife Akpolunde, Alhaji Ishola Bello alias Oluwalowi, Chief Bruno Omoregbe, Edo community leader and many others.
At a brief ceremony inside an eatery-cum-bar in Saint Michel area of the Benin economic capital, Chief Elendu handed over the baton of leadership to Pastor Julius Adebamibo Aderinto, the new NCU President; while Pa Abdul Lateef Olujobi also stepped down as NCU General Secretary. Interestingly, over N130,000 was left in NCU bank account by the time Elendu handed over. In deed, it was the Elendu regime that finally succeeded in opening an account for NCU, which operated for some 20 years without one.
The Elendu, Olujobi and others executive would be remembereed for many things. These include the opening of a bank account and always rising to the occasion, whenever the need arose; which has contributed to making it possible for motorists with Nigerian car registration numbers to cruise freely across Cotonou. Moreover, Elendu left office with his head high; for, after holding office for eight years, none could accuse him of ethnic jingoism or misappropriation.
At the event, a new Chairman of Yoruba Community in Cotonou, Alhaji Fatai Oladimeji, was also introduced. It is, however, worth noting that the new executive includes members of the immediate-past one. For example, Igbo Leader Chief Ebuka Onunkwo was returned unopposed and Alhaji Mounirou Garba also retained his position as NCU Vice President and Seriki Hausawa.
In the same vein, Mr. Wilfred Imasuen, alias Samanja, who hails from Ihogbe Quarters in Benin City, retained his post as NCU Provost; while Rivers/Bayelsa leader Mr. Promise Ahamefule Obulor, emerged incumbent Assistant General Secretary.
Other members of the new exco are Mr. Andrew Mgbachu (General Secretary), Okere Stanley Kelechukwu (Financial Secretary), Chris Onyeukwu (Treasurer), Adewoyin Adeyinka (Assistant PRO), Alhaji Salihu Mohammed Waziri (Assistant Provost), Mr. Domingo (PRO) and Mr. Uwem Udofia as leader of Akwa Ibom community and Chief Godspower Igeh, leader of Delta community.
On the low side, it came to light that 32 Nigerians lost their lives in Cotonou over the last one year or so. To be candid, membership of NCU executive comes with many challenges: however, Chief Elendu coped quite easily with the support of his Personal Assistant, Okezie I. Jonathan and Pa Olujobi, famed for their readiness for leg-work whenever necessary.
Hopefully, there is nothing to fear; for Pastor Aderinto in his address on receiving the baton of leadership, promised to do everything within his power to foster the interest of Nigerians in Cotonou. And, with everyone's prayers behind him to succeed, there is no doubt he would achieve his goals.