WHY I CHOSE TO BE A SOLO PERFORMER -GREG MBAJIORGU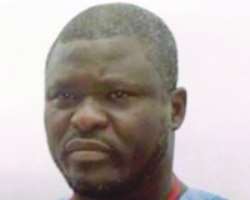 Mbajiorgu
As a University teacher, writer, director and actor, Greg Mbajiorgu's career centres virtually on all areas of creative arts. His choice of Theatre as a profession was made out of passion and conviction that he can only thrive best as a dramatist. He eventually came to limelight as a solo performer, an art, which only a few Nigerians have dabbled into.
After the late Funso Alabi and popular actor, Tunji Sotimirin, Mbajiorgu is the third known artiste in the solo performance genre. According to him, stage acting could be so tedious but solo acting is even more challenging. But the fast rising star said he is willing to be.
Mbajiorgu who lectures in the Department of Theatre and Film Studies at the University of Nigeria, Nsukka recently directed Son of a Chief, a play written by Chris Nyimoga for his department. He engaged the 200 level students who proved their mettle by staging an ambitious production, which had in attendance the playwright himself.
Shortly after the production, which was equally graced by other senior members of the department as well as English department, Mbajiorgu spoke to Daily Sun:
Why I directed Son of a Chief
I have worked for the National Council for Arts and Culture for three years now as an adjudicator on cultural events and last year, Nasarawa state came first. I discovered that Dr Chris Iyimoga and Hajia Lantana together with Dr Emmanuel Dandaura had a formidable team that worked for the success of the state.
So I wanted to know them better and I discovered that Chris is a wonderful writer. Incidentally, I've never heard about his writings and I decided to read him. Later when I read his collection of poems, I discovered him as a poet, a good poet for that matter. And then I suddenly discovered his play of draft label and then got it on my own and after reading it I said wow, he's even more of a dramatist than any other thing and the kind of playwright that should be celebrated if he were to be a noise maker.
Among other things, I discovered that the only production of this work was the one he did in 1975 when it was still in manuscript form. Since then, there hasn't been a premiere production of the published text. So having known the man very well and having fallen in love with the text myself, coupled with the fact that the department also gave me a very vibrant class to teach, I had the right set of students to teach and the right material in my hands to interpret the work.
As a student production, what challenges did you face producing Son of a Chief?
The greatest challenge I faced was that of scheduling rehearsals because students had other lectures running at the same time so when we discovered that we couldn't do meaningful rehearsals in the day we decided to do 6am-8am and then 6pm-10pm. We did that for more than six weeks and the cast and crew were affected because we all had sleepless nights.
You are a writer, director and teacher, how have you been able to merge all three tasks?
I see myself as an actor. People call me a playwright and I say I'm not a playwright but if I can write a play that I can act, then maybe on that ground, I'm a playwright. I am an actor who has a sense of stage, anyone who has a sense of stage can write a play because what it takes to have a good play is to have a sense of stage. So as an actor of the minimalist school, I do a lot of solo performances. I always look for materials that are economical and that don't have any encumbrances here and there. So to realize such performances, I realize that I had to write the scripts myself. So from writing economical theatre, I realize that one can also apply the same principle to write conventional drama.
But as a director, I say no to that. I'm not a drifter. The truth is that any actor who is passionate about any play text can direct that play. For example, I have directed four plays in the recent past. Four of these plays are all plays that I'm passionate about. They include Hopes of the Living Dead by Ola Rotimi, Midnight Black Out by Femi Osofisan, Tony Duruaku's Cash Prize and Play of the Giants by Wole Soyinka. Any day I touch a script that I like, how to put it on stage is easy.
The problem I have with directing is that if you force a work on me, it would not work because it would amount to directing for directing sake. A work naturally should move me. Once I'm passionate to direct a work, then the problem of doing it well will be completely out of the question. When I produced Tony Duraku's Cash Prize, students who featured in the play and who are now lecturers in the department would remember how I tortured them during the rehearsals.
From your experience, what are the qualities of a good play?
When I read a play, I read it as an actor. I want to see the play unfolding in my imagination. Once a play I read begins to unfold in my mind's theatre, then that is it.
Where does the conflict or choice of themes come into play?
The choice of theme does comes into play because immediately I touched Ehimoga's Song of a Chief ñ this is a play about political change, a King has just passed on and a new king is to be elected and the whole process culminated in a season of change, one political tenure was about to end, and there were intrigues and political manipulations to see those who would constitute the next tenure. So I saw a relationship between the script and the Nigerian situation.
Having taught theatre for many years, what would you say are the challenges facing the Theatre Arts teacher/lecturer?
I think the greatest challenge today is that of people claiming competence where they don't have competence. We have a lot of people who find themselves in the University system; they are doing the job of imparting skills but they too do not have the skills. But nobody can give what he or she doesn't have. There's so much claim about preparing people to acquire knowledge in the university system. A lot of people are more interested in the claiming of a certificate than in the proving of that certificate.
How do you then prepare your students for the challenges they're likely to face in the field?
There is need for some kind of re-engineering of the staff strength in most of our institutions of higher learning. For those who are in an area where they don't have enough training, the institution is obligated to send them for training to acquire the prerequisite knowledge needed to enable them function properly in those areas.
Most students who come into these institutions are not fools, once they don't get what they want from those who are expected to teach them, they just work to obtain the certificates. After getting the certificates, they don't pretend to want to use the certificates; they would rather use them to get other jobs.
By so doing, graduates of Theatre easily drift into other professions. The challenge to these institutions is to review their programmes and ensure that those who are properly trained are employed to train others. With this, graduates of Theatre would be able to acquire skills that would make them thrive in the labour market.