'I had male attention, money and fame' • It got into my head --------Edith Uba Anyalogu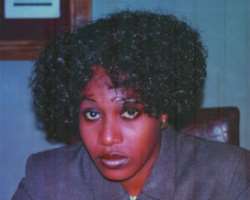 Popular actress and one time top model Edith in this interview talks about how she got into modelling and acting. Edith Anyalogu in her own words.
Background
I am Edith Uba Anyalogu. Before I got married I was known as Edith Jayne Azuh. I was born in Lagos Island Maternity. I come from a family of eight children and I am the first child of the family of four girls and four boys. I am from Delta State, the Igbo speaking part of Aniocha Local Government Area. I attended Anglican Girls Primary School Lagos. Baptist Girls High School Agbor I finished off at Ansar-ud-deen Grammar School Randle Avenue Surulere. I later got admission into Lagos State University to study Mass Communication.
On modelling
I have always loved the entertainment world. I have always wanted to be an actress but my father never liked the idea. Eventually he accepted. I started out as a model. I was discovered by a photographer called Ntun Patel he is an Indian. He was into industrial and wildlife photography. He discovered that I have a very photogenic face and that was how I started modelling for him. What I earned back then was good but can not be compared to what models earn now.
On acting
I met Mike Enahoro and he saw that acting talent in me. And he auditioned me as an hostess for his programme 'Health Wise'. Before I started presenting the programme he had tried me out as a guest on 'Family Menu' a network television programme. 'Health Wise was an health programme where doctors discussed health issues and gave solutions to them. I got a lot of exposure from presenting the programme. I met all kinds of personalities, moved with the big names of journalism world. Nigeria Television Authority (NTA) and the National Arts Theatre became my second home back then. I actually started my acting career on stage with Rasheeed Gbadamosi's 'Sing The Old Song For Me' in 1985. I also participated in 'Greener Grass', Ayo Oluwasanmi's 'Oriki Of A Grasshopper'. I later met Bayo Oduneye the former director National Troupe and that was it everything just clicked. And other television jobs followed and that was how I went from stage to television.
Working on stage is tedious it's back breaking. More tasking more demanding than television. As far as I am concerned television is a piece of cake. You can take it easy make all your mistakes, and take after take. It's so easy but stage is not like that.
My biggest challenge was my voice. I have a very soft voice but I worked on it. But there were other things I had to my favour. I had presence good at interpretation and when it comes to emotions I am the person to beat. So that sort of made up for the weak voice that I had. So whatever I was unable to say well enough to be heard with my voice I said with my body and with my emotions. My first major lead role on stage was playing Benita in 'Rising in the Sun' in 1989. And a lot of other roles followed.
On sex for role
No man has been able to force himself on me. Charm, sweet talk, money and all that. I f I don't want you, I don't want you. Not once have I ever had to sleep with a man to get a job. If I was good for the job I was good for the job. I take pride in saying that I am the one that will accept the man or not. I will look you in the eye and say no. In a very nice way. The kind of man that I hate is the type that thinks his money can get me. That kind of man does not have respect for himself and the woman. He might as well go to the veterinary store to buy a dog or a cat.
On relationship
Fame, the attention got in to my head. I walked into a room and all eyes are on me dazzling gorgeous male eyes are on me. It is not easy to live with that kind of attention as a woman . It just sometimes gets into your head. of course, I had male attention, fame, money and connections too. Almost any man that I wanted I could have and these were some of the things that affected my relationship then.
I will be a liar if I said I didn't found love before I met my husband. Sure I was in one or two relationships that I thought would work but just didn't . If you are wise and you are not easily carried away and you have self control you will know what is right and good for you and what is not. But sometimes we attach the wrong reasons to things.
Where we should be looking for values we are looking for temporary reasons. Women sometimes put premium on money, connections, and good looks before considering marriage. Mundane things that do not keep a relationship intact. I made those mistakes at first. I was swayed by the wrong reasons to accept a proposal. But I thank God that I am not that kind of woman that get carried away by a man. I just knew that I could never marry a man who was not a Christian and a friend. I knew I never wanted to have a stiff person for a husband and we will just be happy only when we are with other people. Until that came along in my husband I just couldn't settle down with any other man.