Mark: No Conflict Between Me And Vice President Sambo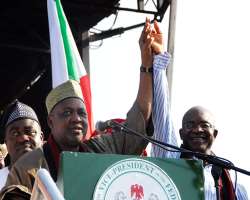 VICE PRESIDENT NAMADI SAMBO (L) RAISES THE HAND OF SENATE PRESIDENT DAVID MARK DURING MARK'S RE-ELECTION CAMPAIGN IN OTUKPO, BENUE STATE A FEW MONTHS AGO.
ABUJA, August 09, (THEWILL) – The Senate President, Senator David Mark has said there is no rift or conflict of interest between himself and Vice President Namadi Sambo over any business transaction.
A statement in Abuja by the Special Adviser on Media to the Senate President, Mr. Kola Ologbondiyan said, "It is a huge lie to impute that Vice President Sambo is interested in selling NITEL to a nameless foreign investor that is prepared to pay $968 million while Senator Mark has a preference to sell NITEL to an indigenous operator, Globacom, for $450 million.
"Senator Mark and Alhaji Sambo are mutually working together for the success of the transformation agenda of President Goodluck Jonathan and have no frosty relationship of any kind between them.
"The President of the Senate, Senator David Mark, is neither a member of the National Council on Privatization (NCP) nor the Bureau of Public Enterprises (BPE). He therefore has no input whatsoever in the day-to-day activities of these privatization agencies," Mark's spokesman said.
According to him, contrary to a report in a national newspaper, Senator Mark did not order a probe of the Bureau of Public Enterprises (BPE). The motion to investigate the collapse of some privatized federal government companies was moved by Senator Ahmed Lawan (ANPP, Yobe) and carried by the whole house.
"The investigation of the sale of these privatized companies is therefore to further the economic interest of our nation just as it is in tandem with the pledge of Senator Mark to engender legislations that will benefit the ordinary Nigerian."
He reiterated again that there is no tussle whatsoever between Senator Mark and Vice President Sambo over the sale of NITEL or any other matter.