Mainstreet Bank Repays N50b To CBN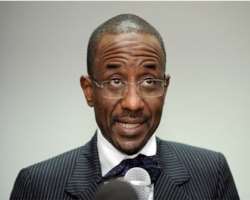 CBN GOVERNOR LAMIDO SANUSI.
Nigeria's recently nationalised Mainstreet Bank, formerly Afribank , said on Tuesday it had paid the central bank back the 50 billion naira ($327 million) in intervention funding given in a 2009 bailout and the lender was now fully recapitalised.
The Nigerian central bank revoked the licences of Afribank, Spring Bank and Bank PHB on Friday because it said they did not show the necessary capacity to recapitalize following a $4 billion bailout of nine lenders in 2009.
Nigeria's state asset management firm AMCON has taken over the running of the three new lenders, injecting 285 billion naira into Mainstreet Bank; 283 billion naira into Keystone Bank, formerly Bank PHB, and 111 billion into Enterprise Bank, formerly Spring Bank.
"The loan repayment is a demonstration of the bank's strong liquidity position. It is also an assurance of the safety of customer deposits and a demonstration of the bank's capacity to play big in the banking industry," a statement from Mainstreet Bank said.
AMCON was set up last year to absorb bad bank loans, exchanging them for government-backed bonds, with the aim of rebuilding commercial bank balance sheets.
In 2009, the central bank bailed out nine banks that auditors deemed to be so badly capitalised they posed a risk to sub-Saharan Africa's second-largest economy. The banks were poorly managed and had overexposure to the capital and oil markets during the global financial crisis.
REUTERS.