Anti-Museveni protests threaten Uganda's image?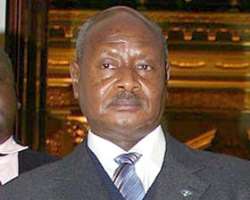 Uganda's Presidential spokesman has rebuked Ugandans who have been protesting against Yoweri Museveni's dictatorship as "economic refugees" who don't matter since they are not provided for in Uganda's constitution.
The spokesman, Tamale Mirundi, 57, says Uganda self-finances 75% of its budget and even if foreign donors cut off support, the East African country would survive.
"Some of you think that, Britain might cut off Aid to Uganda, but we finance 75 per cent of our budget from domestic revenue," he said, adding that: "We don't kneel for any country for financial assistance."
Additionally, Mirundi said foreign-based Ugandans have no authority over Uganda troops stationed in Somalia, so they are out of order to criticizing those troops for allegedly selling U.S.-provided weapons to Somalia militias, as disclosed in a recent online report.
Protests against the U.K.- and U.S.- backed Museveni dictatorship has been ongoing every Friday before the British House of Commons, as the parliament is known.
Friday August 5, the protest was spearheaded by Moses Luzinda under the banner of Uganda United pro-democracy Forum (UUPDF).
"The human rights abuses taking place in Uganda must be investigated and the culprits should be punished for the abuses," said one protestor, a Uganda-born lawyer, Betty Atiku.
"If the Libyans, Egyptians, Tunisians have been heard by the international community, why not Uganda? How many Ugandans should die before they are allowed to choose their own leader democratically, without the threat, and intimidation by the incumbent that has ruled for over 25 years?" she added.
The protesters argue that the February presidential elections have not been free and fair and therefore should be nullified.
Her voice carrying over a megaphone, Atiku said: "The corruption, intimidation of journalists, opposition leaders, peaceful demonstrators, school children, women and ordinary Ugandans, and above of all the killing of innocent Ugandans, and arrests of so many, who are now languishing in safe houses should be condemned. NRM government should respect human lives of her citizens."
So-called safe houses are commandeered residential homes used as torture chambers by state security agents.
Atiku said donor aid was misappropriated and that even though Uganda received billions of dollars, "Yet, Uganda is rated the poorest in the world. Malaria kills every 45 minutes, HIV related diseases also kills due to lack of medicine."
"We call upon the international community, the commonwealth, European Union, and others to condemn the rigging of the elections, and call upon fresh and fair elections, that can bring about true democratic government. Ugandans need change, not with the guns, fighter bombers, but with ballot papers," Atiku said.
Mirundi dismissed the protests.
"Those people don't know Uganda more than we do. Some left Uganda more than 20 years ago," said Mirundi, adding that: "Uganda is governed from Kampala by directly elected leaders, but not anywhere in any European city."
"In my opinion, those people are not important because they are not provided for in our constitution," he added. "If they want, let them come back and make a change here. But demonstrations on London streets or anywhere on streets of European cities, they will not affect any change."
He further questioned that: "Where are they provided for in our constitution?"
Speaking over the phone, he added: "They should come to Uganda if they want to take part in the decision of national policies---I don't give them a lot of political value."
"How many police stations have they visited to be authoritative that many Ugandans are relinquishing in jails?" Mirundi responded when asked about reports of Ugandans detained without being charged or tried. "In fact they are talking like peasants."
"If there are people incommunicado, let them file a habeas corpus; the court will demand the concerned authority to produce that person in court. Why don't they resort to legal means?"
"Those are economic refugees who went to look for money," he said of the protestors. "I hear villagers saying that this information is correct because it is from the internet; if you post rubbish or facts both will be on the Internet."
He said while Ugandans abroad did indeed remit funds to relatives back home, "I also send money to my mother in Rakai," a reference to his home district in Uganda.
"How many hospitals have they built?" he said, of the protestors. "They don't enjoy any special provision under the Ugandan constitution."
"I respect reformist movements who come and participate in the national elections," Mirundi continued.
"But a small group of Ugandans demonstrating in a city of a European country doesn't mean that all Ugandans agree with them."
"What will they achieve because they are not provided for anywhere in our constitution. They are just expressing their anger; yes, expressing anger is there, but do they have capacity to affect changes?"
He noted, "Obama's father comes from Kenya; can he give directive to the Kenyan government?
Additionally, Mirundi also defended Ugandan soldiers in war-torn Somalia. When asked to comment about the media report that Ugandan soldiers had sold weapons to the al-Shabaab insurgents who are said to be linked to al-Qaeda, he said, referring to the demonstrators, "If Uganda's soldiers are trading guns to terrorists are they the investigative agents to investigate it? The soldiers are there as an African Mission."
African peace-keepers [AMISOM] comprises of Ugandan and Burisndian forces who were deployed in Somalia in 2007, to protect the Somalis Transitional government against the al-Shabaab a 'terrorist' organization said to be with links to al-Qaeda.
"Our soldiers are there as AU, not Ugandan soldiers," he added, referring to the African Union. "They ceased to be Ugandan. If they are involved in any bad thing, it should be AU to blame. Let me tell you, I don't believe in rubbish, unless it is investigated." ……..
He wondered how Ugandans abroad would react if the government applied similar protest against them.
"What if us here in Uganda start demonstrating against them? Because you live abroad that is important?", Mr. Tamale questioned but without giving the details of what sort of protests the east African country can stage against Ugandans living abroad.
However, critics say that Mr. Mirundi's comments are measly of defensive, because it appears the demonstrations cause great concerns for the diminishing image of Uganda under Museveni; the country's High Commissioner in London has been dispersing people to monitor and taking pictures of those participating in the demonstrations. On July 7, 2011, at 5:24 PM, Ms Rwabyomere in her comment posted on a social network [Uganda At Heart] demonstrated that she was keen and monitoring people protesting against the Uganda dictator.
Ms. Rwabyomere, a former director of External Security Organ (ESO), in her July 7, wrote: "Dear Denis, thanks for the e-mail. This demo is supposedly planned for tomorrow Friday 8th July and will send you info. the last one which took place three Weeks ago had about 5 people and passed totally un-noticed!! with all good wishes, Joan.
In yet another posting on July 8, Ms Rwabyomere wrote: " hello Denis, 8 people held a demonstration outside the House of Commons from 2pm - 5pm. Joan."
The same concerns are also reflected in Museveni's May 17, 2011, letter to several media organisations. The Ugandan leader, labelled a section of International media as enemies of the country. Museveni, specifically named Uganda's Daily Monitor, the BBC and Al-Jazeera as the "enemies of Uganda's recovery" and declared that, "they will be treated as such."