I'm not a thief, Mercy Johnson cries out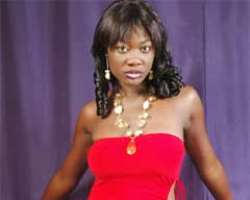 Actress, Mercy Johnson, has a figure any man can die for and she knows it.
But right now, Johnson is not thinking about her figure at all. She is wondering what she has done to some people who she claims, want to mar her reputation.
Of course, it is not a hidden thing that Johnson is one of the most talked about actress.
Gist has it that the actress has been sleeping around and that she is currently doing it with an Israeli man who just bought an Escalade jeep for her.
A very unhappy Mercy Johnson called http://nollywoodgists.com on the phone from Ghana, where she is currently shooting a movie.
"I have been in Ghana for a month now. How come they said I was popping champagne because of the Escalade an oyibo man bought for me. I don't have an oyibo boyfriend. I don't even like Escalade," she said.
Anyway, the oyibo man and his largesse is not the most painful aspect of the gist.
She confessed that when she heard the gist of how she stole 4,000 dollars from a director, she went bunkers.
"My younger brother called me two weeks ago, while I was still in Ghana. He was asking me, 'Sister why did you do it.' He said he went to school and his class mates were laughing at him and they brought out the paper where they wrote that I stole 4,000 dollars."
"I think somebody is all out to ruin me and my career. Just as that publication came out, I lost a 30 million Naira deal from a multinational company that wanted me as their ambassador. It is so sad for somebody to humiliate me like this. Why would I resort to stealing when I work so hard and make money from my work."
Johnson feels some people are set to ruin her but, "they will not succeed. I make so much money from my work and I spend more than half of it on charity. Would 4,000 dollars go anywhere in the orphanage I am building? Would it go anywhere to pay my workers for the orphanage? It is so sad that people are writing such about me. I am all set to fight it this time around."