DEPLETED EAGLES FACE DARING BLACK STARS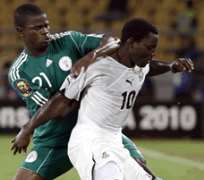 Super Eagles' Coach, Samson Siasia, may be in a dilemma as injury and visa woes has knocked off most of his star players for the Ghana friendly in London. Nigeria would today face daring Black Stars of Ghana with a depleted squad in an international friendly tie at Watford's Vicarage Road ground in London.
This great meeting between Africa's biggest rivals marks the highlight of 13 scheduled friendlies involving the continents national teams this week, in preparation for the Africa Cup of Nations qualifiers next month.
Siasia's headache was compounded over the weekend when Chelsea of England's midefielder, John Mikel Obi, limped off the pitch in Chelsea's 3-1 pre-season win over Rangers on Sarturday.
While the cracker can be dubbed a friendly, the under currents and pride attached to the match makes it a litmus test for Siasia's capabilities to adequately prepare Super Eagles for their other Nations Cup qualifiers.
Today's encounter would be the second meeting between the two countries in England in the last four years after Ghana stream rolled to a 4-1 win in their last meeting in 2007.
Those that would be missing in action today includes: Super Eagles number one safe hands, Vincent Enyeama, Victor Obinna Nsofor , Ekigho Ehiosun, Isreal- based defender, Ambrose Efe and Fengor Ogude based in Norway as they could not obtain UK visas in time for a variety of reasons.
West Bromwich Albion's striker, Osaze Odemwingie, is grappling with a late fitness test.
Meanwhile, Belgium-based forward, Peter Utaka and a home-based star, Chibuzor Okonkwo, are among the replacements that is expected to fill the vacuum that has been created by the absence of the players.
Ghana, on her part was not free of the injury palavar as the Black Stars would not enjoy the services of Udinese's midfeilder, Kwadwo Asamoah, who has been ruled out of the London derby.
It would have been a thing of joy, if the news that Chelsea's John Mikel Obi had joined West Brom's Peter Odemwingie on Eagles' injury list ahead of today's friendly international against Ghana's Black Stars was not true.
It would not have been a parlous state if replacements for injured players were willing to answer national call to duty.
Samson Siasia's troubles continue to mount if one considers the fact that his No. 1 goalkeeper, Vincent Enyeama, was unable to secure a visa to enter England for this most important game. Striker Ekigho Ehiosun, midfielder Fegor Ogude and defender Efe Ambrose have also been denied entry.
Siasia will have to look at other venues if he is going to avenge the Super Eagles' painful 4-1 friendly loss to their arch-rivals on a cold winter night four years ago, a result that was the beginning of a three-match losing streak.
Much has changed in the setup of both teams since the last friendly. There have been changes in coaching personnel – Nigeria has had seven different managers, while Goran Stevanovic is Ghana's fifth since 2007.
Siasia has overseen a change in the attitude of his team and they are playing with more commitment than in the past. The coach has earned credit for developing a way of winning the loyalty and respect of his squad and this has translated into success on the field – they literally play for him.
Since he took over last December, the Super Eagles have scored 15 goals in five matches and let in just four. If there's anything that they will fear against the Black Stars, it will be conceding as many as they did last time in London. Nevertheless, their two meetings at the African Cup of Nations in 2008 and 2010 ended in narrow victories for the Ghanaians, 2-1 and 1-0 respectively.
Siasia has said that his worry is how to stop the Ghanaians, led up front by Sunderland's Asamoah Gyan, from scoring. Siasia is left with only Joseph Yobo in the central defensive position thanks to the absence of Ambrose. There are reports, though, that he will be calling up Queens Park Rangers' Danny Shittu to fill in the gap, which might be a tricky situation since the two have not played together since he took charge.
In the full back position, Siasia is expected to start with Milan's Taye Taiwo and Heartland's Chibuzor Okonkwo to add cover to his defence and launch attacks from the wings. Dele Ayenugba is expected to be in goal in the absence of first choice, Enyeama.
The central midfield is where Siasia's tinkering will be most needed in this game against the Black Stars. Kwadwo Asamoah, Andre Ayew and Anthony Annan will need to be stopped by Inter's Joel Obi, who will be without enforcer, Mikel, as his partner.
Yusuf Ayila will likely provide cover for Joel to ward off the Ghanaian attack, in Mikel's absence, while Kalu Uche will play in a forward position.
It is in the forward line that Siasia will have the most confidence, as Ike Uche, Victor Anichebe and Victor Obinna will lead the attack against the Black Stars. The trio have scored nine goals between them in the Super Eagles' last four games.
Seeing how important this match is for Nigeria psychologically, Siasia is not expected to make many changes to his winning squad from the last couple of matches.
This game will be won first in the mind before it is played on the pitch, so the edge lies within the squad that believes it is able to win.
Meanwhile, Dickson Etuhu has turned his back on the Super Eagles, saying he will not feature for the Eagles under Coach Samson Siasia.
He turned down a chance to join the Eagles as a late replacement for several players who will miss today's friendly against the Black Stars of Ghana in London because they do not have entry visas to the United Kingdom.
The Ghana game will be played at Vicarage Road next door to Craven Cottage in London, where Etuhu stars for English Premier League outfit Fulham.
But rather than come to the rescue of Samson Siasia, who may now be forced to line up a weakened team because of the visa palaver that is likely to keep out the likes of goalkeeper Vincent Enyeama, Etuhu has refused, while another England-based player like Danny Shittu has promptly agreed to do so on Monday.
'Etuhu has refused to join the squad for the Ghana game as a late replacement for some of the players who will now not be there because of visa issues,' a top team official informed.
'No one really knows why he has refused but he said he will not play for Nigeria under Siasia.' Etuhu featured for Nigeria at last year's Africa Cup of Nations in Angola as well as the World Cup in South Africa under coaches Shuaibu Amodu and Lars Lagerback.
However, after the defensive midfielder missed out on a first call-up by Siasia earlier this year as a result of injury, he has been overlooked despite playing regularly for his EPL side.
Siasia though has insisted he will invite players like Etuhu and Shittu when the younger players he is now working with are unavailable.
'We are building towards 2014 and so we will not be looking at too many old players. We are looking at players who could actually stay and grow with the team,' said Siasia.
'I will try and give every player a chance. If a player gets injured, I will draft one of the old players in to see how well they can cope in the new group.
'If he understands, we keep him. If he doesn't, we let him go.'