AL-MUSTAPHA INSANE -FALAE, FASORANTI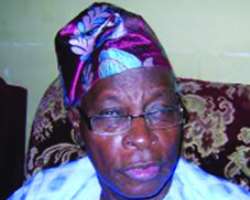 • Falae
The claim by Major Hamza Al-Mustapha, the former Chief Security Officer (CSO) to the late Head of State, General Sani Abacha, that some Yoruba leaders were bribed to cover up the death of the acclaimed winner of the June 12, 1993 presidential election, late Chief MKO Abiola, has continued to attract scathing criticisms from prominent South West leaders.
Al-Mustapha, who has opened a can of worms in his ongoing trial at a Lagos High Court over the murder of Alhaja Kudirat Abiola on June 4, 1996, alleged that the late leader of the Yoruba socio-cultural group, Afenifere, Chief Abraham Adesanya and a former Attorney General of the Federation, the late Chief Bola Ige, were among South West leaders bribed by former Head of State, General Abdulsalami Abubakar, after a visit to the Aso Rock Villa to scuttle Abiola's June 12 mandate.
He claimed that the Yoruba leaders were bribed with about $200 million to cover up the death of the late business mogul and pacify the ethnic group.
But some Yoruba leaders have discredited Al-Mustapha's claim, describing him as a lunatic who is trying to rubbish Ige and Adesanya's legacies.
In separate interviews, former Secretary to Government of the Federation, Chief Olu Falae, and the Afenifere leader, Pa Reuben Fasoranti, said the former CSO to the late Head of State needed to be taken to an asylum for medical check-up.
Fasoranti and Falae wondered why Al-Mustapha was pointing accusing fingers at the dead and not those alive.
Specifically, Falae said Al-Mustapha wants to divert people's attention from his murder case to his frivolous allegations against Yoruba leaders. He described his claim as not only designed to rubbish the Yoruba race but also a ploy to bring the names of the two late leaders into disrepute.
The former Finance Minister challenged the former CSO to produce concrete proof to substantiate his claim, rather than presenting videotape without evidence. His words: 'Al-Mustapha made an unsubstantiated and wild allegation against two dead men. We have to be analytical about his claims. Adesanya and Ige are dead. It is convenient and safe for him to make allegation against the two men.
'The amount of money he mentioned in his allegation was too much for the two men. $240 million, £75 million, an equivalent of N200 million. The quantity of money will fill how many trucks? Is that the type of money Adesanya and Ige can put in their pockets or brief case?
'Al-Mustapha is a lunatic. Adesanya would not take a penny from anybody. During the Western Region crisis, he told us that he was offered a bribe by the Akintola side, which he rejected. We know the kind of life he was living in Apapa. Despite this he rejected the money.
'He was man of integrity. What will he do with such money? Do you think a man of Adesanya's status would allow himself to be bribed by people like Abacha? Whey can't Al-Mustapha accuse some of us who were alive so that we can confront him and put him to shame?
'He came up with the allegation that the two men visited Aso Rock, the video of which was shown at the court. So, what is special in both men visiting Aso Rock? The Head of State invited many people, including myself. It was only unfortunate that I did not go with them on that day.
'If the Head of State invited you, is it a crime? That idiot accused people who were in public office, who did not steal money, of taking bribe. His allegation is rubbish, nonsense and callous.' Falae maintained that there was no way Adesanya would take that money and it would not reflect in his lifestyle before he died.
According to him, to the late Afenifere leader lived a low profile life that did not show that he was a rich person and challenged Al-Mustapha to prove his allegations with substantial proof that these two men were actually financially induced.
He added: 'If Adesanya was given such an amount, he would have lived a flamboyant life. His office was situated beside slum, which was a sign that such a man did not take billions as claimed by Al-Mustapha. This is a man that was shot nine times over Abiola's issues by these people and he would now go and collect money from them.
'Ask this man to prove his case because the money involved is a huge amount of paper money. Did he give the money to them by hand or through transfer to their bank accounts? Let this idiot prove it to Nigerians. Let him mention my name that he gave me money, I will put him in prison.' He also faulted the allegation that the Yoruba killed the actualization of June 12, saying: 'It was the military who killed June 12 and not the Yoruba who fought restlessly for the actualization of the mandate.'
Fasonranti, on his part, said it was wrong for Al-Mustapha to make such malicious and spurious allegation against people that were already dead.
According to him, Pa Adesanya was a man of integrity who could not have been bought to change his mind over the Abiola issue. The Afenifere leader lamented that it was unfortunate that both Adesanya and Ige were not alive to confront the 'great liar,' who he said was bent on destroying their hard-earned reputations.
He added that it was a calculated attempt by the former CSO to Abacha to dent the good image left behind by Adesanya and Ige, who, according to him, were both known for good conduct while alive.'Al-Mustapha is a frustrated person who is suffering from hallucination as a result of about 13 years in prison. I think he should visit a psychiatric hospital because he is not of sound mind,' Fasoranti said.