TONY MONYE: BANKER WHO WROTE BIGGEST NOVEL IN NIGERIA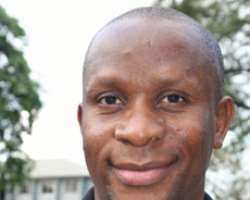 Perhaps you haven't come across a novel like this by a Nigerian. At 743 pages, Tony Monye's Between a Valley and a Plain is a real whopper. Set in Nigeria, the story glissades across generations, recounting the tale of a determined young man, Chibia, as he passes through poverty, love and vengeance.
It also bristles with grief-stricken encounters during the three-year Nigeria civil war.
It is his first book, but the energy deployed in writing it is tremendous. The author is a banker by profession and a writer by inclination. 'I should say I developed the interest for writing very early, but I don't know about being born a writer,' he begins placidly.
We are meeting for the first time at the new office of her publishers, Oracle Books, this Sunday evening, close to the University of Lagos. Sitting beside him is Oracle Books CEO, Promise Ogochukwu. Amid the sapphire walls and transuding lights from the shutters, his light complexion glistens and his face crinkles up in a smile. 'I picked particular interest in words constructions very early in life,' he recalls.
But it wasn't until 1985 that he started taking creative writing seriously. Then, he had a number of friends he was competing with on the number of books each person would read, from writers on the Heinemann African Writers series, to Jeffrey Archer and James Hardly Chase.
'The idea for this novel has always been in me,' he says with raised decibels. 'You will be shocked that the inspiration came from the life and times of an individual in the book, Monye, and not Chibia as you are wont to think. So, other characters were fitted in. I just wanted to tell the story of Monye, who my dad and uncles told me much about,' he draws a wistful pause.
You might be disinclined to believe that Between a Valley & a Plain is less of exquisite memory and more of subtle perception, but it is. Monye's lips show a verbal tic as he says, 'Most of the things in the book are my imagination, apart from what I was told by my dad and relatives. It took me three years to complete the book, because of my job as a banker.'
An aspect of the novel is a war narrative. The build-up to the civil war and the harrowing experiences that attended it were all chronicled through the voice of the character, Chibia, who willingly takes up arms as a way of seeking for retribution over the killing of his loved ones by northern elements.
Why his interest in war narrative? He looks intently into the space and declares, 'That time was the darkest in Nigeria's history, and I never liked it. I don't mean to revisit what took place during the war (I was born after the war), but I heard much from friends and my uncles, and I was able to relate what I learnt from them. Above all, I just wanted to contribute my own quota to the conversation that people should negotiate and be open to re-negotiate. War should not be an option.'
The title of the book, Between a Valley & a Plain, gives little away.  The author explains, 'I wanted to write the story of the boy, Chibia, who struggles to survive. Maybe we can use Chibia as a representative of the hardship most what Nigerian youths are passing through. Orphaned at a tender age, he rose before the challenges and made success. Unfortunately, war took place, and he lost everything.'
Yet, there is a metaphorical parallel to the choice of title. 'In literary parlance, a valley is seen as an area of discomfort and a plain is seen as a place of calmness. So, it was a journey from discomfort to calmness,' he remarks.
Hence, the novel combines the elements of fiction and facts to produce faction. 'Monye's part was real; he was a warrior-king in real life. The other strands are mostly stories from various sources, as well as fiction. Chibia was not a real-life character,' he says.
The travails of Ikenna, Chibia's friend killed in the war while fighting for the Biafran side, are recounted in the story in a way that elicits empathy. 'He underwent similar trials as Chibia. I wanted to discuss him, in way, he impacted on Chibia's life,' says the novelist.
The setting of the book gravitates from the rural to the urban, vice-versa, covering the south and north of Nigeria. 'I wanted to capture Nigeria in the past, both rural and urban lives, and I think I tried to the best of my knowledge.' The author, however, notes that as at the time he was putting pen to paper, it didn't cross his mind that juxtaposition was going to manifest. 'I just wrote as my mind felt,' he echoes.
If you are a lazy reader, the volume of the novel may be scary. Indeed, it takes a doing for any scribbler to come up with this kind of tome. The author informs how he wrote it, 'I just wrote as the story developed; I didn't want to interrupt the flow. It wasn't a continuous thing; any time the inspiration disappeared, I had to wait until it came again. I wouldn't have serialized it, because it wasn't meant to be like that. There will be a sequel to the Chibia story,' he informs.
Ngozi Chimamanda, Helon Habila, Dulue Mbachu and Akachi Adimora-Ezeigbo are among new Nigerian writers who have written about war narratives. So, you wonder whether he has any particular model as a writer. 'I have been influenced by so many writers, from quiet and loud writers; and Chimamanda happens to be one of them. The list includes Chinua Achebe, Ben Okri, among others,' he responds.
Mixing writing with banking could be daunting. Bankers, we all know, are very busy people. 'I try to be fair to myself; I put in my best at my job point and, at home, I try to organize myself to do something, I think, will be beneficial to me. Passion is one of the greatest drivers of success; I have a passion for writing,' it sounds like a warble.
Monye doesn't have a strict writing routine. 'I could stop in the middle of a journey and write down a few things and continue. I don't have a routine, but I like to spend a weekend indoors,' he says.
Among the styles adopted in the novel is diary, which seems real-to-life. This could be because 'they are conversations of every day people, and not conversations that came from the moon,' as he admits. 'I guess, to that extent, it was like what made it look like real life,' he chimes in.
After Between a Valley & a Plain, what next? He smiles wanly and says, 'I have struggled to tell people am an economist and not a writer. If I get another inspiration, I will write another book.'
If writers of scanty scraps can claim to be writers and a man who has written a whooper is shy to claim one, Monye's understatement can grab another headline.