I'm Better Than The Dead----Yinka Ayefele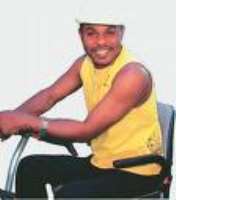 Ace gospel musician, Olayinka Ayefele, does not take alcohol, he prefers water. OLAIDE ADEKUNLE spoke with him on his career, his life and what he does on a typical day
Q: How do you start your day?
A: I wake around 6 or 6.30 a.m., say my prayers which is mostly in praise and worship, take my bath, have by breakfast, then proceed on my normal day's activities.
Q: What are your activities?
A: Appointments determine that. If I have any, I go out to keep it and if there is none, I stay at home to do voice training, rehearse new songs with members of my group. If there is any occasion we are preparing for, we plan towards it and arrange on who does what.
Q: How do you relax?
A: I relax with my wife by my side, I try to forget everything about this wicked world and anything that can disturb or distract me. I make sure I am happy in my own world.
Q: What disturbs you?
A: I don't get disturbed because I free my mind, take things easy, feel happy always and think less.
Q: What makes you happy?
A: Things around me, everyone I move with. I am always happy when I make them happy, put smiles on their faces by helping them one way or the other. I love myself more when I'm able to keep promises and help people solve their problems.
Q: How do you feel being on the wheelchair?
A: I feel happy, I'm better off than the dead. God has been so good to me and my family for keeping me alive for a purpose, which I believe is to serve him, to make people happy in my little way and help those in need.
Q: How would you describe the music industry?
A: Nigerian music industry is fast growing, the musicians are going places and performing together unlike the good old days when they sing to abuse each other, reveal each other's secrets just to sell their albums. You now see two or more practitioners of Juju, Fuji and any other kinds of music coming together to wax an album, perform live and do things together.
Q: Is there any of your album that is most challenging?
A: All my albums are very challenging, I rehearse them the same way and production have always been the same. All I know is that I try to improve on every album every time. When there is any lapse in one album, I do better in the subsequent ones.
Q: Any memorable day or moment?
A: I am always a happy man. I enjoy every moment every day but the day I will never forget is the day I had an accident. Not that it makes me sad, but makes me appreciate God the more, His goodness and love for me. I will forever be grateful for everything.
Q: How is marriage to you?
A: I am a lucky man. I enjoy every bit of my marriage although there are ups and downs, God has been there as a pillar of my home. I wish I married before I did.
Q: What's the secret?
A: Understanding. My wife and I understand each other very well. She knows me in and out, when I'm strong and when not too well, she knows what to do and at the right time.
Q: How many kids now?
A: In Yorubaland, it is believed that you don't count one's children, so I thank God.
Q: What determines your friendship with people?
A: I love honesty, truthfulness and above all, understanding. Once you have those attributes, then, we can get along.
Q: What puts you off?
A: Lies. I hate people who are unfaithful, untrustworthy and not straight forward.
Q: What's your favourite food?
A: I love and eat good food with lesser fat, no cholesterol. I enjoy my local diet as well, but it must be well prepared.
Q: What of drinks?
A: I don't take alcohol, but drink a lot of water.
Q: What is your weekend like?
A: If I have any show to attend, busy but if there is none, I stay at home with my family, go to church together on Sunday and relaxation centres thereafter, to give them a treat.
Q: Any regrets so far?
A: No, I can't think of any. I think before I act and everything I do is to the glory of God, so I have no regrets whatsoever.
Q: When do you retire back home?
A: I am not a night crawler, so if I have nothing to do outside, I mean no appointments to keep, I go back home as early as possible, latest, by 6 p.m. and if I have a show, I make sure the day breaks before I go home.
Q: What will you love to be remembered for?
A: I will be very happy to be remembered for leaving a legacy behind, for helping people and for contributing my own quota to the development of my country in my generation.
Q: What inspires you to sing?
A: God. He is my source of inspiration and I get inspired by those I work with, my group, I mean my band members have been very wonderful and I enjoy working with them all.
Q: How did you come about them?
A: It is a long story, but all I know is that we all started together, have been together and are still together, everyone working together as a team.
Q: When is your bed time?
A: It depends, sometimes 10 p.m. or 11 p.m., but in most cases, I stay with my wife till late in the night, around 1 or 2 a.m., to watch movies or listen to music.
Q: Your birthday comes up on Sunday, how do you intend to celebrate it?
A: It is going to be celebrated although in a low key, but mainly to launch a foundation, the Ayefele Foundation.
Q: What is the foundation about?
A: To help the less privileged in the society and spinal cord patients.