Supporters Mark Ibori's Birthday As Thousands Gather In His Oghara Home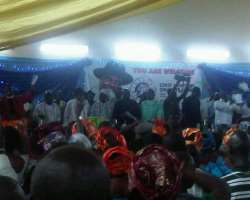 SUPPORTERS AND FAMILY OF DETAINED POLITICIAN AND FORMER DELTA STATE GOVERNOR, CHIEF JAMES IBORI AT AN EVENT TO MARK HIS BIRTHDAY IN OGAHARA, DELTA STATE ON THURSDAY, AUGUST 04, 2011.
ASABA, August 04, (THEWILL) - Thousands of Chief James Onanefe Ibori's supporters gathered in his Oghara home in Delta State to mark the 53rd birthday of their political leader. Ibori's Media Assistant, Mr. Tony Eluemunor, said in a press statement that though most of them came from Delta state, hundreds were from the other states of the South-South geo-political region, while some attended even from as far afield as Bornu and Kaduna states.
Speaker after speaker noted the fact they came to call attention to Ibori's legacies; the unrivalled development he brought to Delta State especially the four long bridges that united the Ndokwa, Ijaw, Itsekiri and Urhobo mainlands with their riverine areas –all hundreds of metres long, the sort no state governor before Ibori had attempted. They also called attention to the Delta State University teaching Hospital, Oghara, commissioned by President Goodluck Jonathan last year, and is reputed to be about the best in Africa.
The gathering marked Ibori's birthday through speeches, prayers by several pastors and finally dancing as music was provided by a live band.
The speakers, mostly politicians but also including retired military Generals and technocrats dwelt on various aspects of their champion; Ibori the man, the administrator and Ibori the astute political organiser. The speakers kept harping on one message; that despite Ibori's present vicissitudes, "that he would never walk alone" as his supporters and those whose lives he touched positively will never forget that he is at present suffering from political persecution and not legal prosecution.
A former Delta State People's Democratic Party (PDP) chairman, Dr. Pius Sinebe, said that he was happy that such a large crowd could gather to honour any leader anywhere as word about such celebrations did not go out until yesterday for fear that Ibori would cancel it as he did that that was planned for last year. He said that nothing in the world would reduce Ibori's giant stature in Delta state and indeed Nigerian politics. Several pastors quoted the bible copiously to show that great men have suffered greatly in the hands of their enemies, only to be vindicated by God in the end. God will vindicate Ibori, they prayed God to save Ibori from the hands of his political enemies.
The occasion was initially planned for the 500-sitter conference hall in Ibori's compound that was built before he became governor in 1999 but as more people poured in, canopies were quickly mounted outside the hall. Dignitaries present included Chief M. C. Uzi, Iyasere of Oghara Kingdom, Chief William Ibori (Ibori's uncle) Chief P.P Tietie, Rev. Dr. Gbejero, Mr. Thomas Eriy Utomi, Bar. Ejiafe Odebala, Hon. Chris Onogba, and Rear Admiral John Onoriode Pkokpogri.