PRE-SEASON TROPHY GOOD FOR CHELSEA - MIKEL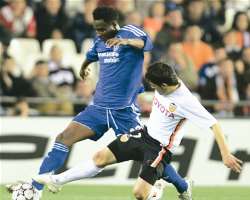 John Mikel Obi
John Mikel Obi, one of three outfield players to complete the full 90 minutes of the Barclays Asia Trophy win over Aston Villa, has looked back on the pre-season tournament win as more than just a step on the way to full fitness and sharpness.
Just one more friendly fixture remains before the new league season kicks-off and as the Nigerian midfielder explains, the team had in the forefront of their minds that winning can become a happy habit.
An impressive victory against the first Premier League opposition faced during the build-up to the season ensured that the 100 per cent record under Andre Villas-Boas remains.
'It was good and for us it was all about getting back to our fitness but at the same time it was an important game,' Mikel insists.
'We wanted to win this trophy, the manager really wanted us to win it too, and we went out and did what we had to do.
He said, 'We played well and we stuck well to our plan we had before the game. We wanted to go out there and put pressure on and score an early goal. Then we could take control of the game which is what we did. We kept playing and we knew that the second goal was going to come. Then we just had to keep the ball.'
Mikel found himself in the right place to turn in a free-kick in the first half of the game but not quite at the right time as the offside flag went up. It wasn't the first time in the Asia tour that he was close to converting a set-piece.
'I don't know if I was offside but I am there for free kicks and corner kicks and hopefully when the season starts, I can play a good role in the box and score a few goals,' he said.
'After playing 90 minutes you do feel back to pretty much your normal fitness level. I am pretty close to being ready for a Premier League game.'