Governor Chibuike Rotimi Amaechi and the Canonization of Profligacy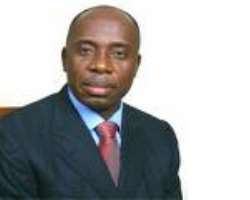 Anger and frustration has been fraying between voters in Rivers State and the Governor they giddily elected less than four months ago. Most River-Staters are said to like Governor Chibuike Amaechi personally, but support for his agenda has leveled off
well below a majority. Governor Amaechi divides River State voters because he has thrown a major decision into their laps. At a time of fiscal retrenchment, the Governor has committed himself to digging a big new fiscal hole for the State.
First, there was this controversial decision by Governor Amaechi to procure a new plane at the slanderous cost of $48 million in tax payers' money. This by anyone's standard is squander mania by whatever name you call it. It is not only squander mania; it is mania of a different, perhaps even more dire pathological kind: it is the mania of self-centered pedestrianism and aggrandizement for a Governor who has declared himself unwilling and unable to pay the N18,000 chicken feed called minimum wage to want to keep a private jet for his personal travels.
The story of the Jet is intriguing in itself. It was procured by Dr. Peter Odili, former Governor of Rivers State, who had hopes of using it for his campaign for the office of Vice-President, until he was out-smarted by foxy former President Olusegun Obasanjo. Following his exit, the plane became a sort of official vehicle for the governor of Rivers State. It is a privilege which the governor has enjoyed so far, to be chauffeured privately in the air at tax payers' expense, and he has absolutely gotten used to the luxury. He needs a little more luxury in his life and has now ordered a new plane at humongous cost.
Amaechi has also been accused of jacking up his security votes, among other acts of financial recklessness. Now, the Action Congress of Nigeria (ACN) has disclosed that Governor Amaechi is heading to the Capital market to raise a long-term loan of N250 billion through sales of River State government bonds to enable it finance its white elephant projects. Huhuonline.com learnt from sources close to Governor Amaechi that the N250 billion capital market bond is in addition to past bonds and regular commercial loans running into billions of naira contracted from some commercial banks such as Zenith, Skye and Access Bank.
A statement by Jerry Needam, ACN Rivers State Publicity Secretary urged 'Rivers people to rise against the recklessness of the Amaechi administration and ask the governor and his cohorts to stop all processes in place for the N250 billion bonds targeted for October this year. Rivers State must not be enslaved by Governor Amaechi to various financial institutions in the country and buried in the repayment of loans and their interests long after his tenure.'
The Action Congress statement averred that 'the high level of financial recklessness and expenditure madness of the Amaechi administration have not only increased hardship and poverty in the state but also sent the state into debts of several billions of naira. It is on record that the Amaechi administration has received over one trillion naira as statutory allocation from the federation account and several tens of billions of naira as internally generated revenue. But the outcomes of the huge amount received so far are uncompleted road projects and over-invoiced contracts particularly in the primary and secondary school projects as well as health sector projects, with some schools costing as much as N130 million,' the release noted.
Insisting that Rivers State does 'not need the loans and bonds from the capital market to develop,' the Action Congress admonished Amaechi to 'stop leading Rivers State into debts and cut his coat according to his size, 'arguing that the revenue accruing to the state from the center and other sources can take care of our developmental needs if properly channeled.'
'The pertinent questions to ask are; does Rivers State really need the loans? Is the state broke that it must finance its projects through loans? Must the governor hang trillions of naira debt on the neck of the state all in the name of development? Must the state be developed over night and, therefore bury its generations unborn in unfathomable debt? What has happened to Governor Amaechi's one billion naira monthly savings and the increased statutory allocation from the federation account as a result of the transfer of several oil wells from Akwa-Ibom to Rivers State? What stops Rivers State with about N500 billion annual budgets from developing at its own pace and cutting its coat according to its size?'
Said the ACN statement: 'It is important for Rivers people to know that the maturity period of loans from the capital market is between six and ten years, meaning that after the administration of Governor Amaechi, Rivers State will be repaying the loans and interests on them.'