ACTRESS EMPRESS NJAMAH IN SIZZLING ROMANCE WITH LAGOS PASTOR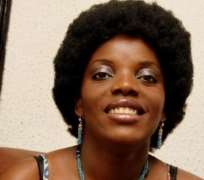 Going by the information reaching us, top Nollywood actress Empress Njamah who was an active disciple of the popular miracle church, Resurrection Praise Ministries for Africa, otherwise known as Jehovah Sharp Sharp,has dumped the church for good.
It was disclosed that the star actress bid goodbye to the church where she worshipped for many years and has not been seen since late last year.
According to the source, she had revealed to her friends and some members of the church who questioned her irregularity in church that she no longer attends the normal church service but attends private prayer sessions there.
Insider sources told us that Empress left Prophet Samson Mustapha's Jehova Sharp Sharp to join the ministry of another Nigerian popular pastor called Sign Fireman who runs Perfect Christian Ministry in Surulere,Lagos.
This actress, who is equally hitting it big with her interior décor business, is said to have become a worker in Pastor Fireman's church and has joined the choir.
Many are however saying that the turn of events have been too fast.
Those who hold this view, say tongues are wagging that Empress has become too close to the pastor less than a year since she joined the church.Indeed, they allege that there could be a romantic relationship going on already.
How? Those in the know say Empress has been spotted many times cruising the town in one of his wonders on wheels.