IYABO OJO IS BEING SO STUPID.ACTRESS LIZZY ANJORIN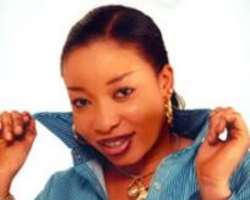 Lizzy has been in the news of recent over her renewed fight with colleague,Iyabo Ojo as the two thespians have been trying to outdo each other in their war of words.
In a recent interview, Lizzy spoke about their fight.
Excerpts from the interview;
Before now many people had believed you and Iyabo Ojo should have settled your differences until recently that the fight seems to have been renewed and it is even getting messier. Why the renewal?
Because she is been used and she is being so stupid, I'm not sorry to say it, yes.
How can she go ahead and grant a television interview? It is a matter of two fighting and you are the first person to talk, then the second person will have a upper hand over you when she is talking.
Agreed we fought physically at a media house, must you still go ahead and grant a television station an interview where she said a lot of rubbish about me and when they came to me for an interview, I replied her.
And the fight started all over again?
I don't know, anything you like you call it. Since she is not keeping quiet I won't too. I expected both of us to have gone our separate ways by ignoring each other till this happened.
After confrontation in the papers she still employed the audio-visual to drive home her point, must she say anything on screen in the first instance? The station only called me to hear my side of the story.
And you decided to make it a fight to finish thing, you turned it into a roforofo fight?
No it's not a matter of fight to finish, it is just like the general saying that first to do no dey pain.It is a case of allegation and counter-allegation simple.
You only need to watch the two interviews before you judge, they asked me Lizzy Anjorin,Iyabo Ojo said this and that about you how true is it and I answered.
It is not a fight to finish. There was an allegation, you are in court you as the plaintiff you have an accused person and they asked the accused, is it true that you killed so so person and the accused will answer no I didn't do it.
I only defended myself. It seems most people saw my own interview and they started reacting to it, they didn't see hers and they felt I started it.
I think Idan Irawo on HITV needs to replay the two interviews.
She even went as far as referring to me as a cultist, that I was involved in cult activities while in school, meanwhile while in school, I was an activist and not a cultist. I don't blame her she only had a stint with higher education.
Like you said if some people had known you have been in the industry for a while they won't be commanding you to respect them,so for how long have you been acting?
I have been around since 2002 and then I was in the university.I was under Sama then in Abeokuta and that is the same person that trained Mr.Latin,that is why you must be careful when you are meeting somebody for the first time.
If probably she had known that I have been around since 2002 in the industry and also that I have a thirteen year old daughter she wouldn't have come to me like that.
You once said you only saw Iyabo Ojo twice in your whole life?
Yes, before the HITV interview I had seen her only twice, the interview was conducted last year.
But now we have seen four times with the third being on the movie location of late Ahmed Alasari before he died and recently at the 40th birthday of Global Excellence editor.
But looking it seems you love the controversy?
You can term it anything you like,I only hate being cheated or taking me for a ride. I am friendly to fault.
We just try to learn that all is vanity in life. I don't smoke, I don't drink I don't club like them. How many of them don't smoke nor do all these things? Yet they still find something to say about me,wont I say my own side?