CONSTITUTION AMENDMENT: 6-YEAR SINGLE TERM SUFFERS SETBACK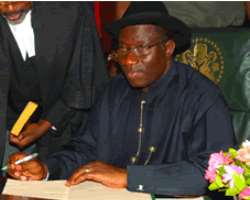 After weighing criticisms, which have trailed the proposal to amend the 1999 Constitution in favour of a six-year single tenure, President Goodluck Jonathan may jettison the idea after all.
National Assembly sources dropped hints of this latest development on Tuesday evening. The sources noted that there was no consensus among legal experts assembled to weigh in on the proposals
'In fact, reports from the legal luminaries are varied on the single term tenure bill.
'With divergent views, even in-house, 'it was learnt that the Presidency may no longer be keen on the single term proposal which was originally intended at deepening democracy in Nigeria.'
Regardless, debates wre reportedly still ongoing over the propriety of dumping the single term bill. Sources reiterated yesterday that debates were ongoing among the legal experts and draftsmen at the topmost level of power and that some diverse views were being considered.
'While some are of the view that a single term will effectively take care of squabbles leading to a second term in office among contenders, others say that the president should concentrate on strengthening the institutions that will stabilize accountability and probity in the system.'
It also emerged that the Presidency may likely propose amendment of 50 clauses in the constitution review whenever the exercise starts in the National Assembly.
Meanwhile, opposition political parties in Akwa Ibom State continued to oppose President Jonathan's proposed six-year single term tenure, saying, it would not lead to good governance.
The Labour Party governorship candidate for Akwa Ibom State, Mr. Idorenyin Umo, told Daily Sun yesterday that, instead of causing unnecessary distraction with the proposed bill, the president should rather tackle the pressing economic problems facing the nation.
Umo said single term would still lead to rigging, as the incumbent would do everything possible to install a successor to protect the misdeed of his administration.
'Single term is not the problem of Nigeria; the problem of Nigeria is leadership. That is the problem that we have, which we need to talk about. Talking about single term is a distraction to me in this country. We need to talk about pertinent things that affect the life of the people, not single or two terms.
'I think the four-year two-term is better, so that, if somebody does not performed, you vote that person out. So single term, to me is distraction.'
Umo reasoned that, since Nigeria would one day reform its political system, people should not tamper with the constitutional provision which gives the electorate the opportunity to sack any bad government.
'A time will come when people's votes would count. Let's believe that we have started the process again because, there is awareness in voting a. The issue of rigging and stealing peoples' mandate would soon fade away. For me, keeping a bad leader for six years is worse because we know that if you are not good, people will vote you out. Some people were voted out in the West. So, a time will come when a bad leader would be voted out, whether you are an incumbent or not.'
'So we should not bother ourselves on that issues; we should face real problems like unemployment and security . Those are the major issues. The government of Nigeria should wake up. I think that we are slow. There are a lot of things that people are yearning for at the moment, but we have not seen any impact. The government should wake up,' Umo said.
Speaking in a similar tone, the acting state Chairman of Action Congress of Nigeria (ACN) in Akwa Ibom, Dr Amamdu Atai said, single tenure would not solve the nation's political problem, rather, what would lead to good governance would be internal democracy and good electoral processes.