Katsina-Alu/Salami: ACN Decries Attempt To Cast Party In Bad Light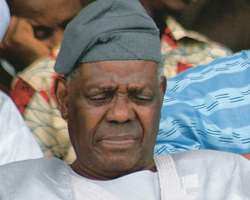 ACN NATIONAL CHAIRMAN, CHIEF BIDI AKANDE.
ABUJA, July 31, (THEWILL) - The Action Congress of Nigeria (ACN) has decried the attempt by a section of the media to cast the party in bad light, through headlines that are at variance with the report of the NJC's fact-finding panel on the misunderstanding between the Chief Justice of the Federation, Justice Alloysius Katsina-Alu, and the President of the Court of Appeal, Justice Ayo Salami.
In a statement issued in Lagos on Sunday by its National Publicity Secretary, Alhaji Lai Mohammed, the party said it had gone through the entire report of the panel, which has been published by at least one newspaper, and that nowhere did it link the chieftains of the party with any of the two main protagonists in the case, as some newspapers insinuated in their headlines.
It said even the call logs, which could have been the only link, were dismissed by the panel as having a dubious origin.
''We are concerned at the unprofessional and unethical portrayal of the panel's report by some newspapers. We wonder who their paymasters are, and what they hope to achieve by doctoring the outcome of a report that is now in the public domain.
''It has been clear from the coverage of the panel's proceedings by this obviously-interested section of the media where its interest lies, hence it needed to write into the report what it had envisaged to be the outcome. We challenge these fiction writers to show which section of the panel's report links our party with any of the main players.
''We know the loss of Osun and Ekiti is behind this campaign of lies against our party. But we are happy that the panel has said the rulings in both cases cannot be revisited,'' ACN said.
The party warned that it would resist any attempt to damage its credibility, saying it had always sought to deepen democracy and the rule of law through constitutional means, even when that could be tasking and long drawn, instead of resorting to self help.
It urged the media, which have always stood on the side of the truth, to beware of those seeking to use them for their selfish ends.