FEMI KUTI,FUNKE DIVORCE UPDATE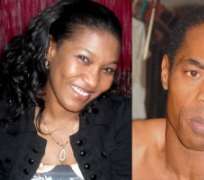 AfroBeat singer, Femi Anikulapo Kuti and his estranged wife, Funke Kuti were absent in court when the case to dissolve their marriage was mentioned for hearing on Tuesday, June 21, 2011.
Though no concrete reasons were given for this development, counsels to the two once-upon-a-time couple who were in court maintained it is not necessary since the sittings just began.
But away from that, we gather that there is no chance for Funke getting a kobo from the estate of the world acclaimed musician in the ongoing divorce proceeding between the duo.
Sources claim this development is at the instance of Femi.
He instituted the divorce on grounds of incompatibility- and did not make any provision for Funke either as the mother of his child, Made or ex wife to be.
Sources revealed that Funke, who is currently striving to make a success of her Events, Public Relations and Artistes Management company, F.K Management is not looking forward to contesting Femi's position in court.
According to a privy source ' you need to understand Funke's person to get a clear cut idea of what is going on. Her line of thinking is, if Femi feels she doesn't deserve to have anything, then so be it. And that is Funke Kuti for you. That is the way she relates with everybody'
Further findings revealed that outside of this assertion- there is an added reason. Funke wants to avoid as much controversy in the case as possible because of her son- Made, recent moves she made in her career and to avoid making a non sense of past success of avoiding controversy.
Sources analysed the reasons thus:
Made just turned 18yr old and doesn't need controversies about his parent's separation and divorce as the foundation of his adult life.
Funke just resigned from the employment of the operators of Lotto Nigeria, focusing fully on the operations of F.K Management.
According to reports she is putting together a celebrity Charity Football Tournament tagged Big Heart for four motherless homes in Lagos. She is said to be in talks with corporate sponsors to be a part of the concept that would see the chosen homes sharing all the projected profits from the endeavour. She is also said to be working on what is tagged 'a major project' for December 2011.
It is believed that any hint of controversy, especially talks of wrangling about compensation in a divorce proceeding might scare away investors and affect the success of her projects.
And finally Funke wants to maintain a semblance of good family life for her son by maintaining good rapport with Femi and is ready to sacrifice to achieve this.
We shall keep you posted as events unfold.