STAR ACTOR,EMEKA ENYIOCHA MADE HISTORY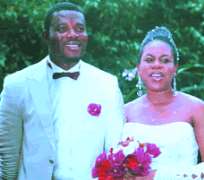 Leading hunk Emeka Enyiocha made history with his recent opening of Happy Hour, Nollywood's first hip bar/hangout. Located in the heart of Surulere, Lagos, the strictly by membership joint, according to the actor-turned-club owner, will be officially opened to A-List stars and celebrities on August 14.
In a related development, Enyiocha, whose lawyer wife recently delivered their second child-a baby boy-would be dedicating his crown prince at the family's church, after which an elaborate reception will hold at Happy Hour.
On why he decided to open and operate a bar, the co-producer of monster hit movie-Champions of our time, explained that the need to diversify and assist his A-List colleagues to relax better after a day's hard work gave birth the idea.
" As an entertainer, I travel a lot and usually enjoy the way stars are treated and pampered in exclusive bars, joints and clubs, solely reserved for them, their pals and family members.
I want my colleagues to enjoy such treatments here at Happy Hour"