OBUH'S CHARGE TO FLYING EAGLES…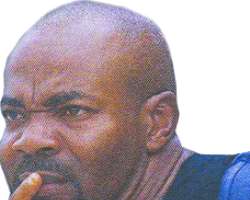 Flying Eagles' Coach, John Obuh, has stated that his side would go all out today in their World Youth Championship opening game against Guatemala not minding if they were debutantes to the championship.
In fact, he insists that his boys would attack their opponent as if he were battling a top team like Brazil, Argentina, Uruguay, France or Germany.
Nigeria, as African champion, will be the big favourite to win the Group D match at the refurbished Estadio Centenario in Armenia, but Obuh has insisted there's nothing lightweight about Guatemala, which is making her debut in the tournament.
'We will play Guatemala as if we are playing Brazil or Argentina,' said Obuh. 'It no longer works about who is a known football nation. For them to qualify for the World Cup, they must be good enough.
'We expect a tough match against them even though some will tell us that they are not a top football nation. Panama opened our eyes to the fact that football has grown across the world.
'We believe we have learnt a few things about Guatemala after we played against Panama recently. So, we have a fair idea of who they are.
'We need to put more effort to make sure that we come out of our group. It's not about a football-playing nation or not. We just have to work.'
Nine players from Obuh's team to the 2009 FIFA Under-17 World Cup hosted by Nigeria made the final squad to Colombia and the coach had reminded them in training on Wednesday that another 'non-football playing nation', Honduras, gave them a very tough match two years ago.
'The match against Honduras was one of our most difficult at the 2009 Under-17 World Cup, even though we eventually won it. It showed that you take any team for granted at your own peril,' Obuh warned.
Los Chapines have already shocked Nigeria at this level when they defeated a Flying Eagles' team led by Coach Samson Siasia 3-1 at an invitational tournament in Egypt prior to the 2009 Under-20 World Cup.
They sensationally ousted one of the powerhouses of North and Central American football, United States of America, 2-1 to qualify for Colombia 2011 after placing third in the CONCACAF qualifying tournament they hosted.
Their Paraguayan coach, Ever Hugo Almeida, has said his target was to ensure that his team does not finish at the bottom of Group D, which also has Croatia and Saudi Arabia.
However, confidence must be sagging after they lost all four games in their warm-up matches against Uruguay and Argentina. They lost 7-0 in their first clash with Uruguay and lost the second game 3-0. And in Argentina, they first fell 3-1, before losing 1-0.
After the 7-0 hammering by Uruguay, where they played with four defenders, they have since changed to playing with five at the back and this could well explain the far more respectable results they achieved thereafter.
What is going for them is that local conditions like weather and food are similar to theirs back home and they expect a big band of travelling fans. As organisers said, at least 10 charter flights filled with fans would touch down at Armenia from Guatemala.
Meanwhile, there would not be major changes from the team that won the Africa Youth Championship (AYC) in South Africa two months ago except for Kenneth Omeruo returning as libero.
The only notable absentee would be Asec Mimosas striker, Olanrewaju Kayode, who will serve out a one-match ban after he was sent off in the AYC final against Cameroon.