Corruption: New 3-man Panel To Determine Justice Ayo Salami's Fate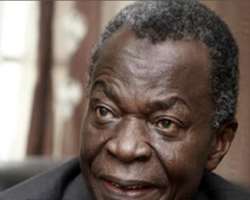 PRESIDENT OF THE COURT OF APPEAL, JUSTICE AYO SALAMI.
ABUJA, July 28, (THEWILL) – The Chief Judge of the Federal High Court, Justice Ibrahim Auta will head a new 3-man panel set up today by the National Judicial Council (NJC), to review the report of the probe panel constituted to investigate allegations of inducement and corruption levelled against Nigeria's two top heads of the judiciary--Chief Justice of Nigeria, Justice Aloysius Katsina-Alu and the President of the Court of Appeal, Justice Ayo Salami.
The 3-man panel, which is expected to submit its recommendations to the NJC on August 09, 2011, will prescribe and set penalties in line with the report.
The NJC ended its two-day meeting today.
Justice Salami is expected to be sanctioned, a judiciary source told THEWILL today, following the establishment of an unethical and cozy relationship between Salami and some top chieftains of the Action Congress of Nigeria (ACN) by the Justice Umaru Abdullahi probe panel.
The Abdullahi panel however said there was no merit in the allegation leveled against Justice Aloysius Katsina-Alu in the Sokoto Governorship Elelction Appeal as claimed by Justice Salami. The panel said the allegation of manipulation was baseless.