Total Films 'Gomina' Ojo Kan premieres for Tinubu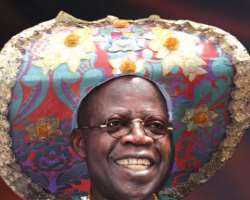 Foremost film production company, Total Film Productions, has completed arrangements to honour the former First Lady of Lagos State, Chief (Mrs.) Oluremi with a premiere show of their new film titled; Gomina Ojo Kan.
According to the producers, the film is motivated by the pivotal role played by the wife of the former governor of the state, Senator Bola Ahmed Tinubu, in the establishment of "The Spelling Bee Competition."
Over the years, "The Spelling Bee Competition," organized annually for public school students in the state has helped to showcase their innate talents and help inculcate in them the good culture of healthy rivalry for better academic performance.
Spokesman of Total Films, Mr. Tunde Olaosebikan, told Saturday Arts, the event is being packaged to celebrate the achievement of the former first lady through her New Era Foundation in the area organizing events that contributed positively to the education of the youths.
"Chief Oluremi Tinubu changed the lives of many school children with her popular Spelling Bee Competition which gave winners the opportunity to become a one-day governor of the state. This has encouraged public school children to study hard so as to emerge winner and possibly become that one-day governor of the state," said Olaosebikan.
The film Gomina Ojo Kan, which is an adaptation of the Spelling Bee competition, is a well-scripted story that infuses the brilliant performance of a jobless graduate in the popular television programme "Who Wants To Be a Millionaire" and the stalemate that nearly marred the emergence of a one-day governor due to the brilliant display of three whiz kids in the movie's Spelling Bee competition.
Gomina Ojo Kan is an educative, entertaining and informative movie meant to draw more attention to the Spelling Bee Competition organized annually by the Lagos State Government for pupils in public secondary schools; in the state