MINIMUM WAGE: FG, STATES TO RECEIVE N710BN ARREARS NEXT WEEK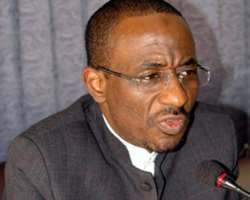 CBN Governor Mr. Lamido Sanusi
The N710.71bn shortfall in the statutory allocations of the three tiers of government between January and June will be released next week.
The arrears, which are the highest to be paid in recent times, form part of the N1.3tn statutory distribution approved by the Federation Accounts Allocation Committee at its meeting on July 13 and 14.
It was gathered that out of the N1.3tn, N600bn had been disbursed by the Central Bank of Nigeria to the three tiers of government to help boost the liquidity of state governments to enable them begin the implementation of the New Minimum Wage Act.
The minimum wage bill, which was signed into law by President Goodluck Jonathan on March 26, is still a subject of controversy between some state governors and organised labour.
But the CBN Governor, Mr. Lamido Sanusi, who confirmed that the amount would be released in a couple of days, said the injection of the money formed part of the reasons the apex bank was further tightening liquidity to curtail inflationary pressures, which might be induced by huge public spending.
He said, 'If you check the total negative net assets of the banks, it's about N1.7tn, and that represents the amount of money that the Asset Management Corporation of Nigeria had to put in, and because the bond can be resold, then about N1.7tn additional money will be invested in the event that banks want to discount that.
'Secondly, you know that the last FAAC also provided for payment of augmentation of about N1.3tn out of which only about N600bn has been disbursed; so, in the next couple of days, we will be disbursing about N700bn into the system. So, this reflects precautionary measures in the event of adverse development in the global economy.'
He added, 'If you get an increase in money supply and consumer demand, and you are not growing output, you will see upward pressures in prices.
'The Federal Government itself is not going to increase its salary bill because no worker in the public service earns less than N18,000, but you are going to find that across the board, as the states increase that, given that they are able to pay, then, that in itself will exert an upward pressure on prices and it will fit into the other sources of liquidity injections, especially by AMCON and FAAC.'