I will go to Maiduguri for love,Boko Haram or not -Funke Garfus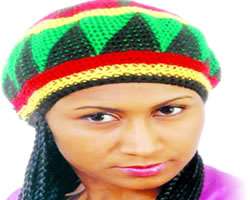 Donell Jones's "Things We Do For Love" is not her favourite song, neither has she seen Tom Cruises "Eyes Wide Open", but this stunner from Epe, Olufunke Olakunga Garfus, loves singing and acting. In this piece with TADE MAKINDE, the star of Nnena & Friends opens up on diverse issues and her willingness to go anywhere that God sends her for love.
THE eyes are no fluke, she hasn't worn contact lens in her life. Her permanent smiles have not been paid for by a tooth paste company either, smiling is the easiest thing for her to do.
Nnena, as she is now popularly known, is the hottest chick to ever happen to sit-come at the moment, just as she has added to the list of top actresses that appeal to kiddies and teens.
For the only actress in the Garfus family, life is just beginning and she intends to live it up.
Half Indian, half Nigerian, Yinka is one of the many to have trained in Wale Adenuga's acting school in Oshodi, Lagos.
As she walked briskly into the Ajao, Isolo office of her "chairman," the small slit on the upper half of her black gown revealed her firm thigh, toned rightly to pop unsteadied eyes.
At 5'7, and fair-skinned, she says her diet of salmon and tuna fish must have something to do with her height, but no Garfus can be considered short because they are tall.
But height has got nothing to do with the landing of her role as Nnena in WAP's latest soapie, "Nnena & Friends," her ability to deliver on screen did it for her.
Right from age five, Funke's mum began to notice how her daughter would spend several minutes either mimicking others, or acting out her own part, before a mirror.
As she admitted nearly giving her dad a heart seizure when she screamed out suddenly in front of a mirror one day doing her thing, a mischievous smile lighted her face.
"He came rushing upstairs to find out what had happened and I told him I was only acting," she says.
Mr Garfus would not forget that frightening shriek though. Souled out to WAP for her acting career, a telecoms company noticed Yinka's infectious smile that she now gets paid for flashing them on billboards.
"I've had the deal long before "Nnena & Friends". It has even been extended recently," she adds, but would not disclose how big, or small the pay is.
Trying so hard to prove herself a full Nigerian despite her Indian bloodline, Yinka has determined to be as "truly Naija as possible by wearing ankaras, adires, and speaking Yoruba language wherever she finds herself. Good enough, this is not an effort to her, she loves her Epe people and will do anything to promote her Agbowa-Ikosi root.
Usually taken for a Lebanesse, Yinka admits her skin color is responsible for that assumption, but says her grandmother is an Indian, while her father is from Epe. She goes home once a while, at least she was in Epe two years ago, but has lived her life virtually in Isolo, Bariga and Ojoo.
"As for my fair complexion, it's been no barrier at all. Those I've worked with don't even care whether I'm Chinese or Yemeni, they know I can act and they hire me for that," she asserts.
Asked why she's only about kids in her productions, the twenty something years old LASU undergrad says its her own way of giving back to the kids.
"I have done a movie, "The Perfect Church," but I'm more into programmes that target kids, that's why I auditioned for "Nnena & Friends."
Did she truly take part in an audition as many believed the role was her's for the asking since she's always been linked to WAP?
"That I attented Adenuga's acting school was no automatic qualification, I had to prove myself before I finally got the part.
"I fasted for three days at Mountain of Fire and on the last day, a Friday morning, I got a call that I should come for an audition.
"You could say I was fired up from above for the audition, and I got it. I had prayed for a break, it came".
After "Nnena & Friends" came "The Perfect Church". Did another three-day fast on a mountain landed it for her again?
"Ha ha ha ha," she laughs the laugh of a true Barca fan. "I did well during the audition, fast had nothing to do with it this time."
With the break into big time feature films, an ambitious actress would seize the opportunity by appearing in more movies, not this half caste.
"I'm very content with "Nnena & Friends" and "The Perfect Church," there is no way I will be seen in Nigerian movies."
Why? "Because they are too complicated, full of rituals, and more often, they are adapted from old foreign movies. You could tell the end from the beginning."
But if Wale Adenuga comes calling, Yinka will get behind the cameras "because he is a good Christian, and he is my mentor."
Seven years ago, Funke started out as a model. As her smiley face continued to dot billboards all over the nation, she diligently studied to become a medical doctor. That, her mother loved. Not for once was she at peace within herself when she noticed her daughter was so engrossed in acting.
The father's 'third-eye' however saw her daughter behind the four walls of an hospital.
"Somehow, my dad new I was not going to end up studying Medicine, he told me so several times. I never believed it, though I loved to act out in front of my folks, and the mirror.
"At High Esteem College in Bariga, I registered for science subjects. I loved Economics and Biology so much then, but for JAMB. If I had made the cut-off score then, I probably won't be acting. But God knew what He was doing with me," admits the final year Marketing student.
In Lagos State University (LASU) where she's respected as a screen star, Funke does not have to go out of her way much to please others. She considers herself lucky to be loved by all, even her lecturers.
"Lecturers, students fans have all been helpful in their ways to help me keep a clean academic sheet. I am loved by them all and I thank God for that," she claims.
It appears God is also shielding her from prospective suitors as she's still waiting on God for the right man.
"Eyi to daa loloun maa fun mi ( God will bring the best man my way). I will wait as long as He wants me to," she smiles as she admits being boboless.
In her quest to get "a good man" though, she's willing to go as far as Borno State, Boko Haram or not.
"Even if I am posted to Maiduguri for my corp service, I will go there because I'm sure God will be there with me. I am ready, but then will put it in prayer first."