Kefee Sings 'Kokoroko' Through the Storm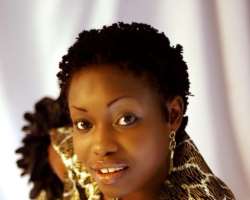 Its been a tumultuous few months for 'Branama' crooner Kefee (Irikefe Obareki), she went from media sweetheart to tabloid target. Her marriage to manager/record label exec Alec Godwin broke down amid various allegations. Yet through all this, Kefee has held her head up high, brushed off the negativity and focused on honing her talent. Any hint of pain or heartache is virtually undetectable on her new album, 'Kefee: 5 Years of a Phenomenon'. Instead, the album is uplifting and upbeat. According to Kefee,
"…I call this material More of Me because as a gifted person, I am showing pieces and crossovers of what a truly talented person and skilled musician can do with any type of music."
"The core message is of course gospel ministry; however, besides making people happy also, I wrote the songs for hearts that are hurting; I am hoping the lyrics heal the heart and put a smile on the face of anyone who hears it."
Not content with making great music, Kefee is investing a lot of her energy into her non-profit, Kefee Peace Foundation (KPF). Her new track 'Kokoroko', a collaboration with fellow Niger-Delta ambassador, Timaya is burning up the radio charts.