PRESIDENT JONATHAN'S SLIP-UPS: A RIGHT OF REPLY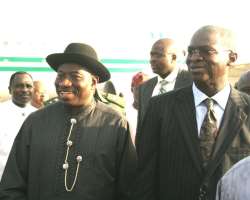 PRESIDENT GOODLUCK EBELE JONATHAN (L) WITH LAGOS STATE GOVERNOR BABATUNDE FASHOLA ON JULY 18, 2011, DURING JONATHAN'S VISIT TO LAGOS IN THE AFTERMATH OF THE FLOOD THAT RAVAGED MOST PARTS OF THE STATE.
I am no more the official spokesman of the President. But huhuonline editorial titled President Goodluck Jonathan's Slip- ups rankles, and I would not keep quiet while a good man is mauled unjustly and unjustifiably in cyberspace. The facts that under gird your editorial are rather specious: something in the character of a "wuruwuru to the answer".
Of the issues raised in the editorial, the most salient are the Lagos floods and Boko Haram. The issue of the credentials and competency of the new ministers has been sufficiently dealt with by other quite knowledgeable commentators. My only remarks on the subject, passing remarks really, would be to insist the president has put together a cabinet whose profile is excellent. He has successfully juggled the competing requirements of constitutionality, national spread, party interests, good conscience and capacity. I repeat what I said during a press briefing on the subject a little over a month ago: there are brilliant minds in every state and in the political parties. What the president was doing (and has now done) is to achieve a creative blend of the best put forward by these institutions, side by side pure technocrats of his own choosing. The ministers' business now is to drive the president's transformation agenda as a cohesive team, committed to the ideals of nationhood and democracy.
On this topic, I must note finally that a cabinet usually means different things to different interests. Usually those who feel short-changed would dismiss its content and character in no uncertain terms. Those whose interests have been served of course praise it to high heaven. Thus there is hardly any purpose to be served by picketing the president's front lawns over the choice of ministers. There is work to be done and the business of Nigerians in this affair is to hold the ministers to the electoral promises of the president.
As a Lagosian myself, the issue of the Lagos floods resonated on a rather personal note. My long suffering housekeeper in Lagos who had been in a race against time to save our home from slow and steady decay since we relocated to Abuja in 2007, called me with alarm on his voice. The house, he said, had been flooded, and he required N50,000 to plumb the premises and pipe out the water on a more permanent basis.
Even as I joked to my wife that we were now official flood victims requiring NEMA aid, I knew that the situation in Lagos had become quite dire. So did the president. I know that he was in touch with the governor of Lagos all through the period. He had visited during the floods of last year. But the symbolism of that visit did not stop the watery encore this year. What we therefore should be looking at are the defining steps he took to prevent the "water" next time! I wonder if anyone noticed that the first assignment of the new works minister was to relocate to Lagos. His crucial assignment could only have been to take definitive charge of federal infrastructure in Lagos, from highways to major drainways that have been blocked by years of neglect.
Though it is difficult to hazard the net contributions of federal infrastructure to the current Lagos floods, there is no question that Lagos needs help. Nigeria's most important city, next only to the Federal Capital, is collapsing under its own weight. Governors Bola Tinubu and Babatunde Fashola in that order, have like my Lagos housekeeper (ACN must pardon this irreverent metaphor) been in a race against time in Lagos. Huge sections of the metropolis are decaying, not because Lagos government lacks will. No. There is abundant will on display. What they lack is the means. Lagos cannot do it alone, and there is no one that realises this more keenly than President Jonathan. Immediately after the presidential elections, I had a long talk with the president over Lagos. I discovered very early, from our days in the Vice Presidency, that Jonathan loved Lagos. I found this to be somewhat of a relief. Not because I lived almost all of my working life in Lagos, or that my wife and love of my life is Lagosian, or that I can myself justifiably claim to be a Lagosian. No. My sense of relief even in those days came from the fact that we Lagosians had always felt a sense of disconnect from governments at the centre. This feeling seems to have been similarly replicated in leaders at the centre who also feel no connection whatsoever with Lagos. This mutual disconnect inevitably led to mutual distrust, and in Nigeria, if Lagosians distrust you, please do something about it, or it will be only a question of time...
Thus I was relieved when I found out that my boss genuinely loved Lagos. And he went ahead to show it in his one year as substantive president. He gave the city a pride of place, revamped the aged but eternally elegant Marina State House where he hosted British Prime Minister, David Cameron, only a few days ago. President Jonathan has spent more time in Lagos than anywhere else outside Abuja. He has returned Lagos, the city that controls 50 percent of the country's marketplace, to the leadership map of Nigeria. Of course there were a couple of traffic snarl ups in the process that gave us a little bit of bad press, but the use of helicopters fixed all that.
Lagosians reciprocated with a massive endorsement of Jonathan at the presidential polls. It is generally accepted that the votes the president garnered in Lagos have never happened in any presidential election in recent memory.
I watched the president's face closely when we had the talk about Lagos. I saw the passion and enthusiasm that shone forth as he spoke of the plans to fix Federal infrastructure, and bring adequate power to the commercial hub of the nation. He spoke of fixing the highway leading to the airport so that first time arrivals in Nigeria via Lagos are not confronted with the sudden stark realities of a struggling city.
I am convinced beyond doubt that the president loves Lagos. He has demonstrated it, and the months and years ahead will confirm it.
Boko Haram is not my favourite topic. As presidential spokesman, I devised a strategy of outsourcing comments on the subject to the police and the other security services. I was determined not to drag the presidency into the streets of Maiduguri and environs when there were statutory agencies whose job was to keep Nigeria safe, and communicate to the rest of us how they were going about it.
I still don't like talking about Boko Haram, but like the president said in New York, members of this dreaded sect are Nigerians, and because they are our nationals, government would adopt a carrot and stick approach. The size and deployment of both instruments can only be determined through a day by day assessment by those whose jobs it is to do so. I find it strange that anyone could have found this approach to be "out of touch", and amounting to "pandering to the demands of terrorists."
I would only make one comment about Government Ekpemupolo (Tompolo), The last time I saw him, he complained bitterly about his inability to see the president. He was convinced that there was an orchestrated plan by powerful interests to fence him away from the seat of power. That evening when we spoke, he did not sound at all like someone who was in any position to give "instructions" on ministerial portfolios. He cannot decide for the president and the president Jonathan I know takes no orders for any quarters. Good counsel? Yes. Orders? Not on your life.
Altogether I find your editorial disrespectful and somewhat uncouth. Your choice of epithets was convey a strange anger- at a government that is just settling down to work? Nowhere in the world is a government that is barely weeks old judged, sentenced and condemned like you just did. President Jonathan surely deserves an apology from you.
Ima Niboro, a former Special Adviser to the President wrote from Abuja.
Disclaimer:

"The views/contents expressed in this article are the sole responsibility of the author(s) and do not necessarily reflect those of The Nigerian Voice. The Nigerian Voice will not be responsible or liable for any inaccurate or incorrect statements contained in this article."
Articles by thewillnigeria.com