OANDO RECORDS 25% GROWTH IN HALF YEAR PROFIT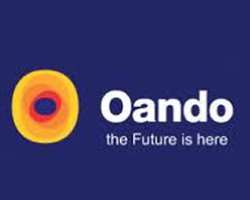 Oando Plc has announced a 25 per cent growth in profit after tax in its half year 2011 financial performance.
According to the unaudited results for the half year ended, June 30, 2011, presented to the Nigerian Stock Exchange, NSE, its profit after tax rose to N6.7 billion compared to N5.3 billion recorded in similar period in 2010.
It recorded a turnover of N267.8 billion, rising by 55 per cent from N172.9 billion recorded in 2010; its gross profit grew by 20 per cent to N33.23 billion compared to N27.7 billion for the same period in 2010, while its profit before tax appreciated by 33 per cent to N12.8 billion compared to N9.6 billion in 2010.)
The major drivers of its performance in the period under review, according to a statement by the company, include, sustained production levels from Oando's producing assets, continuous drilling operations in the Niger Delta region by two of its five swamp rigs and uninterrupted power generation at its Independent Power Plant (IPP), Akute Power Limited, dedicated to the Lagos State Water Corporation:
Others, according to the company, include securing the mandate of the Federal Government of Nigeria to develop natural gas Central Processing Facility (CPF) and its continued domination of the importation and distribution of petroleum products across Nigeria.
Speaking on the performance of the company, Mr. Wale Tinubu, Group Chief Executive, Oando PLC said, 'Our 2011 half year results underline the Group's focus on building and developing the higher margin Upstream and Midstream divisions whilst sustaining our performance in the downstream division.
'This half year, we focused on the development of our E&P assets to ensure that we can increase our production and benefit from the favourably high crude oil prices.
Our Energy Services business maintained a 98 per cent rig up time on drilling operations and we are finalising the refurbishment of the third rig, which has already been awarded a drilling contract by an International Oil Company.
'We completed the construction of our second pipeline franchise in the East, which will soon be operational and we look forward to additional customer connects from the expansion of our Lagos gas pipeline.
The downstream division reliably continues to contribute to the Group's performance with increased importation, supply and distribution of petroleum products across the country.
'With the 2011 elections successfully behind us, we approach the second half of the year with the promise of a renewed drive in the promotion of an enabling environment for indigenous participation in the oil sector ultimately resulting in superior value creation for you our shareholder.'