NIGERIA, YET TO REALIZE ITS POTENTIAL -GBADAMOSI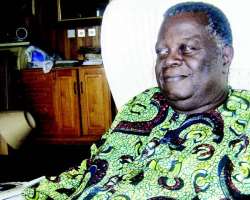 Chief Rasheed Gbadamosi was a former Minister of National and Economic Planning. A respected economist and elder statesman, he speaks on the need for the country to utilize its vast resources to improve the economy. CHINELO OBOGO brings the excerpts:
My experience during the military regime
I had written two books which dealt with the politics of the country at the time the military was still in power.  Fortunately or unfortunately, the book was dramatized on radio and you can guess what happened next. During that time, the military was still ruling us and so any form of opposition was met with dire consequences. After the book was dramatized on air, I was arrested, locked up for a while and questioned on why I did what I did. However after two weeks, I was released. The practices in those days were to arrest people, humble and intimidate them, and then tell them to go and sin no more.
I do not bear any grudge against General Gowon who was the then Head of State, because I felt he was just doing his job of maintaining peace in the country. At the time, it made me very frightened when I was incarcerated, but when I look back, I come to the conclusion that he felt he was doing that for the good of the country.
Since then, our paths have crossed dozens of times and when we met, he was told by his sister-in-law that I was the one  he imprisoned many years ago and we just laughed about it and that was the end. It was not the Soyinka type of imprisonment where everyone starts shouting blue murder because he was more on the political side. I had a two week 'stint' in the prison and that was it.
I refuse to bear grudges because of the values I imbibed. The best advice I have ever received in life was from my dad when he told me that I should never sit down and plot against my fellow being. He said I should never do what I cannot own up to. So after my prison experience, I just moved on with my life.
My political life
I had said in an earlier interview that my father influenced my career choice. I wanted to be a doctor, but he told me that children of business men study Economics so since he was a successful businessman, that was what I did. The choice helped in shaping my life. The high point of my career was becoming the Minister of National Economic Planning. Before then, I was the Commissioner for Economic Development for Lagos State. The Economic Planning Ministry then dealt more with capital projects. Then, I ensured everyone that was involved with working with me had the right to say yes or no. The efforts that we put in and the measures that we took while I was minister ensured that there was no money waste. You will serve the government and express your views
As a civilian I have served the military regime twice. When I was a commissioner, it was under the military regime and contrary to the general belief; there was no clash between myself and the military administrator. It was acceptance of roles that saw to the cordiality we enjoyed. Even though, we still argued and had disagreements but in the final analysis, the governor who is the chairman of the executive council will finalize.
The economy during the military vs. the civilian dispensation
There have always been economic problems. It does not matter whether it is the military regime or the civilian dispensation. What matters is that it is up to the head of the government to evolve the fundamentals of his administration's policy.
I did not formulate  policies during my time as minister, because it was a collective decision. There is always the principle of collective responsibility of government. We would go there and carry out broad parameters of what the government has planned and then we will advise on the better option. The ministerial policies were always based on submission of memorandum, we will submit it then it will be debated upon and the summary will be profiled by the head of government that is how these things worked.  People say I should rate this economy, but I cannot rate this government because, every regime has the right to formulate its own policies to channel a course for the economy.
My greatest regret
The greatest regret is that we are yet to realize our potentials in this country and this is very horrible. I find it very sorrowful to say the least. If we had even realized a fraction of our potentials, we would have been like any of these developed countries.
However, I believe that we can still redeem the situation because no one lives forever. It will be sad that what we should have gotten and achieved, we do not get it because we are yet to tap into our vast resources.
I am not political, I listen and I observe what is going on in the country. I have refused to be political because many things in this country are very confusing to me. Politicians are funny people. When you think they are doing one thing, they switch over to another.
When the issue of zoning and whether the president should contest or not was burning, somehow the politicians sorted themselves out.
I am one of those who believe that there is still hope for the country; we should not be despondent because there is still hope for the country.
The situation we are in is not an endowment but the truth is that it is very common to most nations. What is sorrowful is that we have not been able to galvanize our endowments .We have over  150 million people and we can shake the world if we can harness our potentials very well. By every standard, we are privileged so we should make the best use of it.