MOST BEAUTIFUL GIRL IN NIGERIA,SYLVIA NDUKA RECOUNTS JOY OF CLINCHING THE CROWN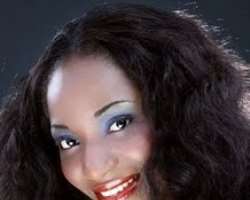 Few weeks after being crowned the Most Beautiful Girl in Nigeria,Sylvia Nduka talks on her winning strategy and other details about her lifestyle.

The 20 year-old University of Lagos undergraduate equally commented on why she became jittery on stage during the question and answer session and her plans for the cash prize of N3 million.
Still looking refreshed and calm, Sylvia, who is from a family of five children, her mother, is a staffer of First Bank Plc, while her father, resides in the UK.
She is the last born of her family. Her other siblings,3 girls,2 boys, are all married.
She is from Isuofia, Anambra State and maintained her ultimate ambition is to conquer the world.
Excerpts from the interview;
What really has changed about you since you were crowned the Most Beautiful Girl in Nigeria 2011?
Nothing has changed about me yet,I am still the same Sylvia Nduka.
Were you expecting to win the crown in the first place?
Somehow, I did. I knew I worked so hard in camp and I expected a whole lot.
What was your experience with other contestants in camp?
The experience was wonderful. I am sure I will never forget it in a hurry.
Who will you pick among other contestants as outstanding?
They were all very good, very good.
Who among them was your greatest challenge?
Nobody, but they were all very good, very intelligent people.
Have you ever participated in any pageant before now?
No, this was my first time.
How will your reign look like?
You guys should expect a whole lot from me.
Who among the past beauty queens has inspired you?
I will say Omowunmi Akinnifesi.
Tell us a bit about your growing up?
I grew up in Lagos. I was born and bred in Lagos; I have always been like this. My growing up here in Lagos was interesting.
Tell us about your schools?
I am currently studying Accountancy at the University of Lagos.
I am in 300 level.
Like how much did you spend on this beauty pageant?
I am an Accountant, I believe I should be able to do that. It's a lot of money; I have not been able to come out with a definite figure.
So, who did your clothes?
A friend of mine, she made my dresses.
What about jewelry?
She did as well.
What will you say is your unique selling point?
I will say my confidence, yes!
But you were not confident on stage during the question and answer session. What happened, was it stage fright?
I will say yes. I was a bit frightened on stage. At a particular time, I lost it but I knew it's not good. But now I am working on it to avoid a repeat.
Many people have said you were not qualified for the crown because of that singular act. Do you feel otherwise?
Come to think of it, if you check what I did in camp, if you go through my performance you will realize I did pretty well. The one that happened on stage was just stage fright, it's not enough to condemn me.
What are your plan for the cash prize of N3 million?
To help children who don't have the opportunity of going to school. So I am going to help the few ones that I can and make sure they are in school because I believe education is the key to success.
How is your beauty routine like?
There is not much. I wake up in the morning, wash my face. I don't forget to take a glass of water immediately I wake up.
I use a very common cream anybody can use, Johnson's baby cream and I take my shower.
What is the best beauty advice you have ever been given?
Never to sleep with my make-up on.
You are Igbo, can you speak your language?
No. Maybe because I grew up in Lagos and because I communicate with my family in English.
Which part of the country are you from?
Anambra State, Isuofia town.
If you have to choose, which part of the globe would you love to visit?
I love Nigeria. I could go to any state in Nigeria which is going to be better than any place abroad.