MINIMISING ECONOMIC LOSSES FROM HARDWARE COUNTERFEITING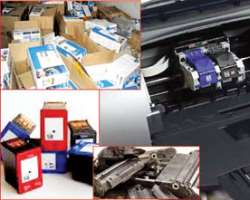 Minimising economic losses from hardware counterfeiting
The rising wave of hardware counterfeiting in Nigeria is increasing the country's economic losses and giving stakeholders cause for concern, writes DAYO OKETOLA
Counterfeiting and piracy have remained a menace across many industries in Nigeria and the government does not only lose revenue in the form of taxes, potential employment opportunities are also lost.
The nation's economy lost an estimated $225m (N33.75bn) to software piracy alone in 2010, while the country remains one of the biggest dumping grounds for Chinese counterfeit mobile phones, among other products. The country's film and music industries have also continued to incur financial losses as a result of piracy.
The Business Action to Stop Counterfeiting and Piracy (BASCAP) in a report, 'Estimating the global economic and social impacts of counterfeiting and piracy,' released in February, 2011, said the global economic cost of counterfeiting, currently, estimated at $775bn, was expected to double to $1.7tn by 2015.
The International Chamber of Commerce said this would put 2.5 million legitimate jobs at risk each year. Experts have said counterfeiting and piracy are not peculiar to Nigeria. However, the rise in Information Technology hardware counterfeiting in the country has become a major headache because it undermines legitimate businesses of computer/hardware manufacturers.
The English Africa Channel Manager, Imaging and Printing Group, HP Africa, Mrs. Sherifa Hady, said counterfeit printing supplies were being illicitly dumped in the Nigerian market; adding that it was unfortunate that buyers thought they were buying genuine products.
She said, 'People who buy counterfeit cartridges and other fake merchandise believe mistakenly that they are receiving original products, and they deserve the high quality and performance for which they are paying.'
According to her, counterfeit printing supplies represent a false economy because they are not engineered with the same degree of precision or quality as the originals, and the resulting print will be of lower standard.
She said counterfeit printing hardware could damage the printer as well as invalidate the hardware warranty.
On the environmental impact, she said, 'Counterfeit printing supplies are not subject to the rigorous environmental standards and controls to which legitimate manufacturers must adhere to. Their frequently poor performance and increased failure or leakage rates will also lead to greater waste of paper.'
HP, like other Original Equipment Manufacturers, had pointed fingers to China in the proliferation of counterfeited IT products in the global market.
According to the HP Anti Counterfeit Programme, 2011, the majority of counterfeit goods flooding markets today originate in Asia, and in this regard China is a significant challenge.
Increasingly it's believed that counterfeiters are integrating vertically along the supply chain and now control not only the manufacture of fake goods but also the local wholesale distribution. The firm said, 'In the case of printing supplies, investigators from HP's Anti Counterfeit Programme are noticing that in some markets, Asia is playing a larger role in controlling the introduction of product into local distributors.'
Hady, however, stated that the company had resorted to large- scale seizure with the help of law enforcement agencies to combat the proliferation of counterfeit hardware destined for HP printers in Nigeria and other markets.
Supported by the police, Hady said HP had confiscated nearly 6,500 illegal items in Nigeria. She explained that law enforcement agents raided an illicit workshop and four connected retailers, seizing 3,600 ready-for-sale laser print cartridge counterfeits, 1,800 fake flat boxes and almost 950 empty laser print cartridges intended for illegal use.
Hady added that the police arrested four persons in the illicit business while additional intelligence obtained during the raid led to the capture of a key figure in the local counterfeiting scene.
She added, 'HP appreciates the strong cooperation of Nigerian law enforcement to help protect our customers from the inferior standards and potential risks of counterfeits.'
According to her, HP and local law enforcement officials have recently undertaken successful actions that are disrupting the presence of counterfeiters and their ability to introduce inferior product across its numerous markets.
'For example, in the United Arab Emirates in March, 2011, authorities executed the largest seizure of counterfeit printing supplies destined for HP printers, more than 770,000 pieces. Later in the year, in Kenya, officials intercepted a shipment from China at the nation's largest sea port, in Mombasa, seizing more than 140,000 pieces of counterfeit printing supplies destined for HP printers, the largest seizure HP has recorded in this country,' she said.
She noted that HP, had over the last four years, assisted in the seizure of nearly nine million pieces of fake printing supplies products and components in Europe, the Middle East and Africa.
She also said HP was putting significant investments in imaging and printing research to help curb counterfeiting in printing supplies in the country.
Following this, she said the company had recently developed a Toner Cartridge Authentication initiative, which is a free software that validates whether the installed cartridge is an original HP LaserJet toner cartridge or an alternative supply, such as a remanufactured, refilled, cloned or counterfeit cartridge.
While seizure may be effective, the Head of Care, Nokia West Africa, Mr. Silvin Sinan, said the fight against counterfeit phones and other IT products would be better fought through enlightenment.
He said the fight against counterfeit was a fight against intellectual property theft, economic sabotage and a fight for consumer protection. According to him, the best way to curb the menace of counterfeit devices is to reduce their demand by highlighting the dangers they posed to Nigerians and the economy.
Sinan said, 'When it comes to counterfeit devices, it is a buyer's market. As long as there is demand, there will be supply. So, we have to work together to highlight the dangers that these substandard devices pose to the health and well-being of the people. Basically to get them better informed thereby eliminating demand for these devices.'
'We believe that if the average consumer is aware of the potential hazards that he exposes himself to everytime he purchases a counterfeit device, chances are that he would have a rethink. The need for all hands to be on deck in public enlightenment about the dangers of counterfeit devices cannot therefore be overemphasised. The more people are aware of this danger, the less vulnerable they become. The bait of cheap prices of these counterfeit devices becomes less and less attractive.'
To the General Manager, Anglophone West Africa, Microsoft, Mr. Emmanuel Onyeje, the Federal Government, ICT industry players and consumers must join hands to strengthen intellectual property protection in the country.
He said sound intellectual property policies were the only way software piracy and other counterfeiting could be reduced in the country.
'In addition to strengthening the economy, sound intellectual property policies can help reduce software piracy and counterfeiting which threaten legitimate businesses and expose consumers to the risks that come from using non-genuine products. Software piracy and counterfeiting tend to thrive in places with weak IP protection, and this has an enormous and negative impact on the global economy,' he noted.
Hady in the same vein, added that the rise in hardware counterfeiting only reinforced the need for the government to fight the menace with renewed vigour backed with the right policies.