DNA shocker! Precious Donatus-Ogbonna, not the mother of 7 'miracle babies'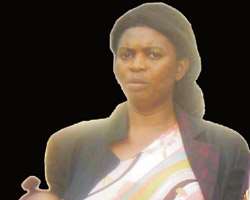 A lie may take you far, but it will not take you home. Just about the time we are going to press, the much awaited result of the DNA came and the truth began to manifest.
Regardless of the finessing of reasons and the faith she professes, as a Pastor of Holy Ghost Salvation Ministry, Owerri, Precious Donatus Ogboona chose to lie, she chose to deceive Nigerians about the seven babies, claiming she bore them serially within a one year period.
But right now, we have reached the state of disequilibrium where the truth has conquered.
The preliminary result of the DNA test conducted pen-ultimate week, Monday July 11, 2011 has revealed that — Precious Donatus Ogbonna is not the mother of the babies.
The result of the test which was conducted by Pathcare Nigeria Limited in partnership with Pathcare South Africa, states "Maternity is excluded in more than two of fifteen DNA maker systems. Biological maternity of the alleged mother individual 1(MS P C P OGBONNA, ID: 24/11/1974) is therefore EXCLUDED"
Precious Ogbonna who is still in Police custody in Owerri had insisted she gave birth to the seven babies. She refused to disclose the hospital where she alleged to have given birth to the seven babies until recently when apparently Police
became tough on her, thereby revealing Nurse Blessing Maternity home in Port-Harcourt claiming she delivered 5 of the babies in the home.
She also insisted in an interview before her arrest that she was still expecting another babies saying God had revealed to her that she was going to have ten babies.
Before now Precious has been childless for about twelve years of marriage before she came up with this multiple birth story.
According to her claim, she bore the first baby on August 25 2009, Amarachi who died after five days. Followed by Conqueror, (female) May 6, 2010. The third baby, June 3, 2010, (Chizitere, female); fourth baby, August 16, 2010 (Ekpereamaka, male); fifth baby, September 19, 2010, (Fineseed Angel, female); sixth baby, October 19, 2010 (Evidence, female); seventh baby, January 13, 2011,( Flourish, male), eight baby, April 2, 2011, (Ebenezer, male) .