Tensions Rise Over James Ibori Court Hearing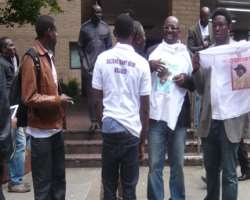 Pro- and anti-Ibori supporters face off outside Southwark crown court hearing of former Delta state governor
Supporters of James Ibori, the former governor of Nigeria's oil-rich Delta state, in front of Southwark Crown Court. Photograph: guardian.co.uk.
It's a long way to come for just a couple of days, but Anidi flew all the way from Asaba, the capital of oil-rich Delta state, Nigeria, to London to give her full-throated support for James Ibori, the state's former governor, who has been charged with money laundering and fraud.
Anidi (her first name) was among some two dozen pro-Ibori supporters who faced off a smaller - but very vocal - anti-Ibori group outside Southwark crown court, near London Bridge, on Friday morning.
"This man is a good guy," insisted Anidi, as the two groups shouted at each other on the steps outside the court, kept apart by a lone police officer.
Pro-Ibori supporters wore Free Ibori T-shirts bearing the face of the man who was governor of Delta state from 1999 to 2007, and one of Nigeria's wealthiest and most powerful politicians.
The anti-Ibori group brandished placards that read: "UK judiciary thank you".
"He should be tried here in the UK and after this he should be tried in Nigeria," said Lauretta Onochie, deriding Ibori's supporters as "those idiots".
The London Metropolitan Police Service (MPS) and Nigeria's economic and financial crimes unit started their investigations into Ibori in 2007, shortly after he left office. In October 2007, a UK court froze assets worth $35m allegedly belonging to him.
In May last year, Ibori was detained in Dubai at the request of the Met on suspicion of money laundering and conspiracy to defraud. He was extradited to the UK in April.
Ibori was not in court on Friday - he was remanded in custody in May - and the hearing was spent on trying to pin down a starting date for the trial, which will not be before 14 November.
Guardian.co.uk.
(THEWILL, San Francisco) added at 10.31am (PST) - Group Protests In London, Calls For Ibori's Release
A Coalition of Activists and Professionals under the aegis of Niger Delta Liberty Initiative, NDLI, Friday staged a peaceful protest at the premises of Southwark Crown Court, London, calling for the release of Chief James Ibori on humanitarian ground.
The group in an online statement, which was signed by Mr. Jaro Egbo said the protest was with the permit of the Metropolitan Police.
According to the statement; "The group believes that the recent hacking scandal involving Rupert Murdoch NewsCorp and the resignation of top police officials suggest that the British government Justice system may not be as perfect as it seems.
"We therefore call on the British authorities to release Chief James Ibori on humanitarian ground to return home to Nigeria as the trial is more or less based on political struggle and rivalry in Nigeria leadership.
"We believe that the Nigerian Government should learn from the Australian authorities on how to treat their Nationals as exemplified by the support extended to Murdoch in the hacking incident.
"The Nigerian Government should not lose sight of the territorial implication of hounding their Nationals to foreign jurisdiction under the pretext of fighting corruption.
"The Niger Delta Liberty Initiative (NDLI) will continue to make all necessary sacrifices and provide support within the sphere of the law to ensure that Chief James Ibori who is a victim of high wire politics and conspiracy is released and allowed to return to his home country, Nigeria where he played and will continue to play key role in the stability, peace and political evolution in the Oil rich Niger Delta region in Particular and Nigeria in general.
"We call on all well meaning Nigerians across the globe to join the campaign for the release of James Ibori by the British authority on humanitarian ground."