MEN SHOULDN'T BE AFRAID TO WRITE THEIR WILL -FOLORUNSHO ALAKIJA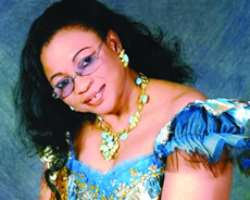 •Folorunsho Alakija
Widowhood in African society is almost like a taboo. Widows are treated with disdain. They are robbed of their joint belongings with their husbands as soon as they lose their husbands. In this interview, Mrs. Forunsho Alakija, a topclass fashion designer and an oil magnate, advised men to always write their WILL to avoid the torture and punishment their wives go through after their death.
Mrs. Folorunsho Alakija, the CEO of Rose of Sharon and Famfa Oil has shown passion in caring for the underprivileged in the society particularly widows and orphans when she established Rose of Sharon Foundation.
So far, she has empowered hundreds of widows and awarded scholarships to their children in Lagos. Recently as she turned 60, Alakija empowered widows and gave scholarships up to university level to children of widows and orphans too.
Today's empowerment programme seems special and unique. Why?
Yes, because this one coincides with my 60th birthday. I felt that it should have a perfect touch because I was born in the month of perfection; I thought we should make it a lot better than the others. So, we have brought a lot of clothes from friends and well-wishers of our foundation. We also brought birthday gifts for them such as umbrellas. It's rainy season and you can see that the rain has been torrential. I think it would be quite useful for them. We have given every family and orphan that is here today.
What is the vision of the organization for those who don't know much about it?
Our vision is to touch as many widows as possible all over Nigeria. We have started with Lagos State, because they say charity begins at home. We have gone as far as Benue, Ogun and Oyo states. We intend to build modern schools in all these states. We want to partner state governments and we desire donations of land from every state to enable us to carry out these projects. No government can attend to the needs of the populace alone. That is why, even as God has called us, we will like to partner the government.
What have been the challenges in your efforts to better the lot of widows?
Fund has always been a challenge. We've never had enough funds to be able to attend to the needs of all those who require assistance because their number is alarming. It's when you get involved with it that you realize the number of widows that exist in the country. Already, in Lagos State, we are overwhelmed by their numbers. They seem to know themselves and where to find each other. They are each other's friends. As a result of the empowerment that we carry out, they go back and advertise Rose of Sharon Foundation to their friends. We always find that we are empowering more.This is the first empowerment that had not doubled in number because it has outstretched in terms of numbers of those of us that are going out for counselling and verification. We will need to hire more hands in the future. We have been faced with the arrangement that we have been making for my 60th birthday, our 35th wedding anniversary, our grand daughter's third birthday party and the entire event that has been outlined for the week. We have had to combine everything and it has not been easy but the Lord being our helper, has seen us through the arrangement and have been able to execute our 7th empowerment which has fallen on the 7th month, the month which I was born.
What can you say about the way widows are perceived by the public?
We need to educate the public. We need to make them realize that widows are not outcastas, they are not supposed to be looked down upon. The mere fact that you have lost your husband does not mean you have now become a second class citizen. They should pity them. They should love and encourage them. They shouldn't turn their back or look down on them. God loves them and wants to be there for them. He said, He is the husband of the widows. Their families totally turn their back on them and it's totally wrong.
Widows face a lot of challenges and humiliation. Is there anything the foundation is doing to enlighten the public?
We have been enlightening the public through our programmes and interviews like this to encourage them not to turn their back on the widows, but to help them. They give them more problem than they already had. Honestly, the woman is mourning, she has lost her husband, her partner, lover, friend and we don't want to create more problems for her. For her to find her feet takes a time. She has been a partner to someone who is no longer there and she now tries to fend for herself and her children. If you can't trust her, for God's sake, leave her alone, don't torture her. We have been educating the public as far as I'm concerned and we are now taking it to the next level, which is, to begin to get the government to enforce the legislation that is already on ground. For them to actually punish in-laws who are victimizing, torturing and robbing them. I call it robbing of what actually belong to the wife of the spouse who died. They take over the man's property, throw the women out and many times ignore the children. They take over the husbands' landed properties, estates, etc, claiming that it is their brother's property. It is wrong. That is not how God planned it. We pray with them, encourage, counsel and help them financially which is the key to keeping body and soul together. After that, we can take it to the next level and begin to talk about more legislation and how the existing ones can be enforced.
When you ask men to write their WILL, they believe you are wishing them dead. How can we enlighten them?
We are also telling the men that they should realize that the first person to be considered as their next of kin is their wives because brothers and sisters wouldn't take the dead man's children as a priority. It will always be their own children that will be priority for them and they would want to take over their brother's properties and use the funds they would obtain from that to train their own children. Men's eyes should now be open to that. When you die and leave your wife behind, be sure that your wife will want to look after your joint children rather than your brother or sister. Your brothers and sisters will look after themselves first, they will amass the wealth for themselves and their own children and give crumbs to your children. But your wife will definitely look after your children. Men should make their wives their next of kin over their relations. They should not look at writing their WILL as a taboo or a way that will now cause them to die. God expects you to do things properly. You will go when God wants you to go. Even if Satan has programmed you for death, if God does not sanction it, you will not die. So, writing your will does not mean it is time for you to die, you are just being intelligent, proactive and doing the right thing at the right time.
What are your experiences working with the widows?
The first thing that you notice about the widows is that they always fulfil appointment and in time too. They are extremely early when you give them appointments. They are very good with timing and they hold on to their God. They love God and they rely and trust in Him, probably because, many people had failed them in the past.
When did you decide to work with the widows?
I didn't decide to work with the widows. It was a call of God. I asked God where He would want me work for Him and He gave me James chapter I vs. 27. When I read it, I found it was for the widows and orphans. That was in 2007.
How has it been at 60?
I have come a long way. I have worked extremely hard all my life. I am glad I am going to be 60 because it's a landmark birthday. God has been with me throughout those 60 years. I am celebrating my birthday in a grand style as a way of giving back to God all the blessings He has given me, also thanking Him for those 60 years and for giving me the opportunity of being able to stretch my hand to those who are in need. It has always been a pleasure to give rather than to receive. When you put a smile on someone's else's face, I can assure you, it radiates a lot of joy within you. I will continue to do it till I die. Whatever God calls me to do, I will do. I thank God that I'm alive to reap the fruit of my labour too. Giving to the needy has always been a tremendous pleasure to me, my husband and our children. It's a wonderful feeling.
Thirty-five years in marriage, what's the secret of your success?
The secret was a marriage that was built on the foundation of love. I have always submitted to my husband, and my husband has always loved and respected me. We have nurtured our children and always communicated among one another. We have been closely knit with our children. Right from the beginning, we have entered what we call an oath to one another that neither of us will drop the boat, but will endeavour to have a family that will be very close, where we will put our children in the middle of our marriage; that we will do our very best to bring them up the best way we understand.
What's the secret of looking good even at 60?
There is no secret. It's just the grace of God. I don't feel 60. I can assure you that is the gospel truth. I have not done anything special. Over the years, it's only recently that I have started exercising properly. I have always eaten anything and everything at different times of the day, at the wrong time. I sleep late, wake up early. I don't get enough sleep. Everything has been through the grace of God. It's one of the reasons I have written a book. I'm a workaholic. I work late into the night almost on a daily basis.
Is there any political motive by establishing the NGO?
No, I am not a politician. I have never been into politics and I 'm not going into politics. I have told you how I got into this and there is no lie about that. People who know me know that I don't lie. I say it as it is. That is me.