ASA JAMS WITH SEAL AT MONTREUX JAZZ FESTIVAL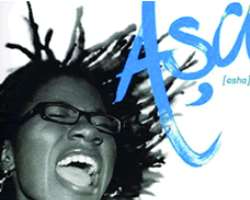 Soul diva, Asa, last week joined an exclusive league of musical greats as she performed at the 44th edition of the prestigious Montreux Jazz Festival. The Montreux Jazz Festival is the best-known music festival in Switzerland and one of the most prestigious in Europe. It is held annually in July in Montreux on the shores of Lake Geneva. Founded by Claude Nobs, a Swiss, it is the second largest annual music festival in the world after Canada's Montreal International Jazz Festival.
Musical legends such as Quincy Jones, James Brown, Nina Simone, Aretha Franklin, Earth, Wind & Fire, Wu Tang Clan and Fela Anikulapo-Kuti have all performed at the Montreux Jazz Festival. 'All the musical greats have been at Montreux,' Asa says, adding that she has followed the festival closely, and collected and studied videos from previous editions. 'It's exciting to join the list. This is huge!'
This year's edition of the show held from July 1 - 16. Apart from being one of the few Nigerians to have performed on the platform of the Montreux Jazz Festival, Asa was also one of the youngest this year, alongside Grammy award-winning jazz bassist and singer Esperanza Spalding and others. However, of all the young artistes, it was Asa, who was selected to perform alongside Nigerian-born superstar, Seal at the most prominent venue of the festival, the Stravinsky Hall.
Going by her annual tradition, Asa has been touring the world since January when she held fort in Montréal, Paris, Marseille and Cannes, moving to Zurich, Lausanne, Milan, Barcelona, Madrid and Berlin in February. In the following months, Asa performed in Australia (Womad Festival), Belgium (Festival les Nuits du Botanique), the United Kingdom (Indigo), and Canada (Festival d'Eté) among others.
Straight from the Montreux Jazz Festival this month, Asa will be in Aix Les Bains, La Rochelle and Nimes in France, as well as Wiltshire in the UK. She will also tour South Africa, Brazil and Switzerland before returning to Nigeria on September 14.