'I WAS BORN IN JUNE, WEDDED IN JUNE AND ORDAINED IN JUNE'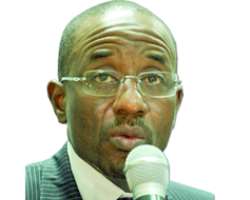 In the Enugu District, of the Assemblies of God Church, Rev. Emmanuel Ngene holds sway as the superintendent. He has devoted himself to the things of God and confesses that there's joy serving God.
In this interview, the district superintendent talked about himself, family and others.
Could you tell us about yourself?
I hail from Ugwuaji, Akwunanaw, in Enugu South Local Government Area of Enugu State. I am the district superintendent of the Assemblies of God Nigeria, Enugu district. We have 190 branches in our district. I was born on June 28, 1954, at Markudi, Benue State, at the northern bank of the river Benue. That was when my father was working with the Nigerian Railways. I attended Methodist Central School, Utonkon, Benue State. Later we returned to East where I continued my education. After my education, I worked with some construction companies. I was in the construction sector until I was called into the ministry in 1980.
Would you say that Nigerian churches are doing well in evangelism?
Yes, the church is doing very well. Look at the growth of the membership, the number of churches and number of Christians compared to the 70s and even 80s. The gospel is rapidly spreading to every nook and cranny, the challenges not withstanding. When Christianity came newly to this part of the world, we were using virtually no instrument, or very local ones to preach. Today, you can see that we have so many good and sophisticated gadgets, and so many means of mass communication that can reach millions of people instantly. The modern media has helped a lot to spread the gospel to our generation.
Take Assemblies of God Nigeria for instance. We had fewer churches in the early 80s, but today, there is no part of the country we have not covered. Between then and now, we have established thousands of churches in different parts of the country. Go and check. There is no part of the country where you will not find a branch of our church, even in the hitherto 'unreached' areas. We took the gospel to the Fulanis and Kanuris, etc. And these church are filled with converts, human beings. So, the church is growing. We have even gone beyond our shores. We have foreign missions in Cameroon, Gabon, Benin, Israel, and Germany. We just concluded transferring the Assemblies of God, Cameroon to the indigenes, after so many years of missionary work over there.
What of social ministry?
Well, we are trying our best for now. In our church, we put so much importance to the social ministries. We minister to the prisoners, the sick, less privileged and the disabled. We have the school for the deaf and dumb called EVAMI, in Enugu. We take care of these kids, their education and even vocational training. And I know that other churches have theirs also. We have ministers in charge of this aspect of the ministry, at the national and district levels. We believe God will help us to do more.
Would you say that the country is really feeling the impact of the expansion of the church?
Yes. The church is impacting on our society. Just imagine how it could have been without the church. The little light you see in the nation is just because of the presence of church. The enemy is seriously threatened by this. All the commotion we constantly witness is the reaction of the enemy to the spread of the gospel of the kingdom. The enemy is not happy with that at all. No matter how you look at it, the Nigerian church is very powerful, large, dynamic and influential. Individually, Christians are also making impacts through the various positions they occupy.
What's your view on Pentecostalism?
Pentecostalism is a good omen and one of the best things to happen to the church here. Look at what God is using it to do today. Look at the great awakening and the expansion. Today, Nigerian churches are among the fastest growing in the world. In fact, we are at the forefront of world evangelism. This was made possible because of the coming of Pentecostalism. It came with the power, zeal, anointing to fully utilise the power of the spirit of God to spread the gospel, and we all see the results today. We now have living Christians filled with the power of the Holy Ghost and doing exploits for the kingdom of God .
What of the proliferation of churches?
It is good. Every church or ministry has its own special gifts and operation. No church is basically the same with another. So, it's good that people have a lot to choose from, according to their spiritual needs. Do you know that many people wouldn't have given their lives to Christ if not for the charismatic churches? Most times, it is the spiritual gifts in these new ministries that attract people, and consequently, lead them to accept and serve Jesus Christ. So, in my opinion, God allows this to fulfil the great commission, to take the gospel to the whole world.  Now, when people open new churches and begin to put efforts to bring in members, they are also directly or indirectly winning souls for the kingdom. Having said that, we also know that there are fake ones. By their fruits, operations and discernment of the spirit you will also know and avoid them.
You are celebrating your 31st years the in ministry and 25 years of marriage this month…
I am grateful to God and I feel great. Yes, it is a thing of Joy. Yes, June is a remarkable month in my life. I was born in June, wedded in June and also was posted to my first and second pastorates in June. Now, you know ministry is sometimes very tough. Having gone through all these years, with different experiences, and with God guiding us, one cannot but thank Him for all His mercies, for the good health, protection, favour and kindness. I thank God for my family, my wife and children. God has been faithful in all His promises to us. We had a thanksgiving for all these on July 3 at the Assemblies of God Church, New Haven, Enugu. We invited our families, friends and other men of God to join us in thanking God for all these mercies. We cannot just thank Him enough.
What are your experiences in marriage?
Good! I have a wonderful family. I have a wonderful wife and great children. Yes, there will always be challenges in every marriage, but with love, honesty and the fear of God, you both will succeed. My wife, in particular, has been a blessing to me and my ministry. She is hard working and supportive. The best thing that will happen to a man is to marry a Christian wife, a wife that will support your ministry, a humble wife that you can trust and rely on always. She is also a powerful evangelist. I am also happy and grateful to God that our children are all Christians.
When we got married newly, my wife had a stillbirth and after that there were series of problems. When she took in again, the doctors checked her and told us that what she was carrying was a not-fully-developed foetus. They asked her to come, so they would flush out the thing. But, we didn't go; rather we prayed for God's intervention. She had the baby sound and healthy. The girl wedded last December and she is doing her final year in law.
Would you like to marry the same wife, if you are to be given another opportunity?
Yes, I will. Sure!
Do you have any unforgettable experience in the ministry?
There are so many. In my first pastorate, I had several challenges and spiritual battles. I remember one of the days I had a strange dream. In the dream, a man turned into a tiger, killing and devouring children. And somebody rushed to inform me of what was going on.  And as I jumped up, I turned into a lion, went after the tiger and dislodged it. So, when I woke up, I was, indeed, worried and I ask God why I should turn into an animal. His explanation was that He wanted the witches to know that He was greater than them. He said that that was how He also turned Moses' staff into a serpent in Egypt. And that He chose the lion because it is stronger than the tiger. That was a very strange and unforgettable experience in my ministry. God wanted to show me His overwhelming authority over demonic powers.
What's your view on the political situation in the country?
Things are fast changing for good. Look at the just concluded general elections. It has been judged by the local and international observers to be free, fair and credible. That is a big plus for Nigeria, the government and the electoral commission. It is a remarkable departure from the unfortunate, disgusting past. Things are indeed, stabilising. We never believed it would happen so soon, but it has. It's just like a dream. We thought that the only solution would have been a violent revolution, but it's being done quietly. We are grateful to God for giving us President Jonathan and Professor Attahiru Jega. They are indeed men of integrity. Before, our very eyes, things are fast changing for good.
What of the post-election violence in the North?
All these were instigated by the cabal that is trying to resist the positive change the country is witnessing. It is totally uncalled for. The election was not just free and fair, but also, as I said earlier, very credible, the best we have had since independence. So, why should any sane person  kill fellow Nigerians to protest the results? Why? It is quite unfortunate and uncalled for. It is retrogressive and very barbaric. The perpetrators and the instigators must be brought to book. How do you explain the senseless killings of those promising, innocent youth corps members? How?
Did your church lose any member or property?
Yes, we did. We are always affected because of our spread and presence in every part of the country. It is indeed, a very sad experience. You are building and some agents of hell are destroying. How can we build a nation this way?
What would be the solutions to the incessant crises in this part of the country?
Well, as I have earlier said, the government must arrest, investigate and punish the people involved in this satanic mission against Nigeria and fellow Nigerians. This is just the only solution. They must be punished, to serve as a deterrent to other lawless minds that might be tempted to try this wickedness in the future. We must not let this pass by like others in the past, if we actually want it to discontinue.
What do you expect from political leaders, especially President Goodluck Jonathan?
Let them get their hands to work immediately. There is much to be done. Nigerians want steady and affordable power supply. We want good roads. We want them to provide security, jobs, etc. Things have really gone so bad in the country. We want them to fight corruption. This is just the bane of our development. There is so much corruption in the system. They should support the agencies that fight corruption. Our elected leaders are still stealing our common wealth and putting them in foreign banks, acquiring estates in best cities of the world and even at home. Can't something be done about this?
Do you support Christians going into politics?
Christians should, in fact, get involved now. You cannot change the system unless you get fully involved, though without losing our focus. This is important.