'I FELT LIKE I WAS BEING STRANGLED WHEN MY HUSBAND WAS EXECUTED'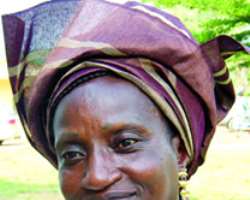 The journey to this page and stage started one-and-a-half years ago. Or put more succinctly, we began the search for her and the family about 20 months ago. And after a string of failures, occasioned by blunt leads, we managed to get her two months later. Even the meeting had a predetermined condition: no interview, no photographs.
We accepted, but wondered why such a moving book like the widow of Major Gideon Orkar, the brilliant and brave Benue man that led an insurrection against the military administration of General Ibrahim Babangida on Sunday, April 22, 1990, would want to remain anonymous. Perpetually 'underground'.
Since that revolt was quelled, and her man was executed alongside 67 others, neither her nor the children had granted any media interview. Very few Nigerians either knew them or could link them with the famous Major. Such things, it would seem, were the least of their worries.
For a long time, 'You know I'm still in the service' was the automatic answer that Mrs. Bunmi Orkar, the Chief Nursing Officer of the Nigerian Army Intelligence School, Apapa, Lagos, gave each time I renewed my request for an interview. She never shifted ground until March, last year, when she suddenly agreed to give this reporter an exclusive interview to commemorate the 20th anniversary of her husband's death. But I bungled it. I suddenly disappeared from the radar. As if that was not enough, and quite uncharacteristically, I failed to call her to apologise for the disappointment, and explain why I missed the opportunity.
You can then imagine her indignation when, sometime in April, this year, I phoned her to say 'Hello ma; long time, no see'. She wasted no time in giving me a piece of her mind. And I had to beg and beg until she told me that my sins had been forgiven and I should go and sin no more.
Then, late this May, I got an SMS message from Mrs. Orkar, announcing the impending wedding of Tavershima Olayinka Orkar, her second son, to Adebola Rachael Agboola, his heartthrob, on Saturday, July 9, 2011, at The Glad Tidings Baptist Church, Ogbomosho, Oyo State. I quickly replied that I would attend the epoch-making event. I fulfilled that promise alongside Biodun Adeyewa, our ace photojournalist.
It was really a glorious day for the Orkar Family as Nigerians from all walks of life trooped to the ancient town to witness the glorious occasion. After the solemnization of the matrimony, guests were feted to a feast at the Federal Government College.
After the event, I sat down with Mrs. Bunmi Orkar for the long-awaited interview. She grudgingly agreed, but with a caveat: 'You must let me see what you are publishing because I do not want to be embarrassed or embarrass anybody. You know I'm still in service.'
With that, I set my tape rolling. And for the next one hour, twenty minutes, the woman would answer virtually all the questions that I posted to her.
She was close to tears as she recalled those sorrowful days when Major Orkar, the love of her life was held in captivity, prior to his trial and eventual execution. Despite the overwhelming joy she had felt prior to the interview, the mother of six seemed grief-stricken as she recalled how she converted her only car, a Peugeot 504 saloon car, to a taxi cab, ferrying passengers from virtually every part of Lagos.
Even so, that could hardly meet her needs, especially her children's school fees. So, she decided to sell half of everything that came in pairs in her household. Still, she was forced to withdraw her children from school at some point. But she never gave up. She stepped up the struggle and persevered until God wiped away all her tears, and all her children turned out well. Even, Ayilla, her last son, who was just six months old when their father died, is now a graduate.
'It's God,' Mrs. Bunmi Orkar, 56, says for the umpteenth time, pointing to the sky as she reminisces over those days of sorrow. She now brims with joy, and ethereal peace.
Please read on:
Excerpts.
I can see that you are very excited.
Oh yes, I feel great. Since my husband's death (21 years ago), this is the first major party I will hold; and thank God for His grace, I don't think that it could be better if he were alive. Thank God for the support of the members of the family, my family, his family, my friends, his friends, everybody. They really supported us.