FRANK EDOHO FINALLY OPENS UP ON HIS SEPARATION FROM HIS WIFE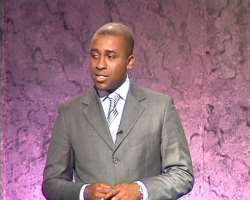 The news in town has it that Frank Edoho had gone to court to file for a divorce, a process which will end his marriage to Katherine, who originated from neighbouring Cameroun Republic.
Further checks indicated that the two are still far from ending the bitter quarrel that has plaqued their marriage for some months now.
Source maintained they still live apart.
Frank was said to have moved to Lekki area of Lagos and katherine hibernating with their three kids on Victoria Island, Lagos, abandoning their Chevron Estate, Lagos home.
Frank Edoho finally opens up on his separation from his wife on Social Network, Twitter
Here are some of his Tweets;
we've been separated for over a year now and I want to say Kathy is a great mum & a good person But it wasn't working. Forget press stories.
Hey ppl! just want u to know that I wld never do anything to hurt my family. But sadly, I am separated from wife & it's irreconcilable!
When I talk about what really went down, jaws will drop and then u'll learn that if u want to get hitched, make sure it's your soul mate!pls!
Hi Tweeps! Thanks for all your support.There's no reconciliation for me on this matter.
No more ball-and chain 4 me.I've had it! I'M out!