ONLY GOD CAN PROVE MY INNOCENCE.AKOLADE AROWOLO(WHO ALLEGEDLY KILLED HIS WIFE)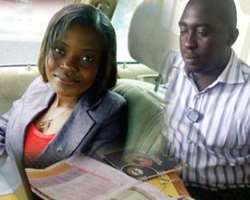 On Friday, June 24,2011,the news of Akolade Arowolo,a 30 year-old murder suspect, who allegedly slaughtered his wife,Titilayo Arowolo,28,spread like wild harmattan fire across the nooks and crannies of Nigeria.

He was consequently arrested and taken to State Criminal Investigation Department (SCID), Panti, Yaba, Lagos and later arraigned at a Yaba Chief Magistrate Court in Lagos on Friday, July 8, on a one-count charge of murder.
The Magistrate, Mrs.Demi Ajayi, referred the case to the Directorate of Public Prosecutions for advice. He has, however, been remanded at the Ikoyi Prisons as the case has been adjourned till September 9, 2011 for further hearing.
A BRIEF RUNDOWN OF THE WHOLE STORY (Friday, June 24,2011)
Some minutes after 11pm,the murder was committed.
According to some of their neighbours, no one knew about it until the following morning.
There was rain, so no one heard their scream. No one could categorically say he or she was a witness.
HIS ARREST (SATURDAY, JUNE 25, 2011)
Conflicting reports surrounded his arrest. According to police reports, he was apprehended by some policemen who saw him with blood stains around Aye Bus Stop, Isolo, Lagos, but he managed to escape and in his desperation to get off the hook, he was knocked down by a car. He managed to pick himself up, mounted a bike and fled.
According to Kolade, he said that he never intended to run away."I went to the police station by myself and never attempted to flee. If I was knocked down by a car, you should have seen the bruise on my body or I may have ended up breaking my leg or arm". he said.
HIS PARADE AT THE PPRO'S OFFICE
On Tuesday, July5, 2011, they brought him to PPRO at Awolowo, Ikeja, GRA, Lagos around 12:35pm.Still on his green shirt and black jean, he collapsed when he saw crime reporters with their cameras, but he was revived soon enough to face thousands of questions poised at him.
He held on his Bible and never looked up to answer those questions.
HIS CLAIMS
He claimed that he never killed his wife and that he never attempted to escape. He claimed that he reported himself to police.
He denied being a cultist and that the report that he mutilated his wife was untrue. He denied being ritualists but never denied the fact that his wife died as a result of a fracas between them.
KOLADE'S ADVICE TO THE YOUTH
Kolade said as a born again Christian, the pre-marital sex he had with Titilayo is what made him to marry her after she got pregnant.
According to Kolade,I was dating another born again Christian lady before I got entangled with Titilayo and when I discovered she's pregnant, we had to hurry to the altar to cover the shame.
Titi and I were just friends.
I'm a born again Christian and I have a calling to be a pastor, I am a staunch member of the Redeemed Christian Church of God, Christ Parish,Gbagada but my marriage to her has been hellish said Kolade
Advising the youths to avoid having sex before marriage,Akolade said" I want to advise youths to stay away from sex before getting married and ensure they properly know the person they are getting married to.
They should avoid pressure from any quarters to lure them into any relationship that they will regret later in life as only God can prove my innocence in this case
A VISIT TO KOLADE'S CHURCH (CHRIST CHURCH, GBAGADA)
A senior member of the church respond to our questions, but on condition of anonymity.
Sir, do you know Kolade Arowolo who was a member of this church?
He replied; "Yes, but he was no longer a member of this church for over a year now".
Before he left this church, he was involved in a scam.
He wanted to swindle a white man, claiming that he was a pastor of Redeemed Church. They had finalized everything, but the ladies mother decided to come to Nigeria to verify his claims. It was when she came to Nigeria that she realized it was all lies.
That single act made him lose a job as an administrator here in the church. He left the church in shame and was reported to have relocated to Abuja until we heard about this report.