ISLAMIC BANK: FG SHOULD CALL SANUSI TO ORDER NOW -CHRISTIAN GROUP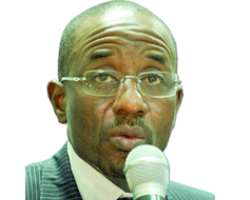 Sanusi
The Christian Welfare Initiative (CWI) has asked the Federal Government to, without delay, call the governor of the Central Bank, Mallam Sanusi Lamido Sanusi to order over his alleged involvement in the controversial Islamic banking.
Addressing a press conference in Lagos yesterday, the national president of Christian Welfare Initiative, Archbishop Magnus Adeyemi Atilade warned Mallam Sanusi against plunging Nigeria into a religious crisis, when the country was still grappling with the Boko Haram imbroglio.
He said the Islamic banking, which Sanusi was propagating 'is part of a hidden agenda to Islamise Nigeria, which must not be allowed to happen.'
Archbishop Atilade, who is also president of the Gospel Baptist Conference of Nigeria and Overseas, reminded Mallam Sanusi that Nigeria was a secular state with many religious organizations, where there should be freedom of religion and worship.
With Archbishop Atilade at the press conference were many top Christian leaders, including Professor Chris Awodipe, Bishop Kayode Williams, President and Gospel Preachers Association of Nigeria International and 30 others.
Said the CWI leader: 'We as Christians, Nigerians and discerning people are suspicious of the move by the Central Bank governor to use his position to impose Islamic banking on the nation. Any move to Islamise Nigeria will be dead on arrival. It will never happen in this country.'
He warned Sanusi that he would be looking for trouble to continue to use the country's resources to champion the cause of one religion against the other, stressing that over 80 million Christians in Nigeria would not accept that.