NIGERIANS EARN N7TN ANNUALLY FROM SHIPPING - AGBAKOBA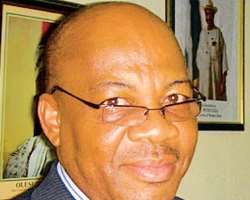 Olisa Agbakoba, (SAN)
The Federal Government and private business owners earn about N7tn annually from the shipping business, a maritime lawyer, Mr. Olisa Agbakoba, has said.
He said that the shipping business had remained the hub of economic development in Nigeria and urged President Goodluck Jonathan to pay due attention to its proper administration.
Agbakoba, who spoke in Lagos at a press briefing on the state of the maritime industry, called for the establishment of a separate ministry for shipping technology for adequate development of the sector.
He said that the industry could offer more job opportunities that would drastically improve the economy, if properly regulated.
Agbakoba, who is also a former President, Nigerian Bar Association, said that regulation and enforcement of the nation's shipping policy should be vested exclusively in the Nigerian Maritime Administration and Safety Agency.
He urged that NIMASA should be transformed and given a free hand to operate.
He said this was the only way the maritime sector could develop, adding that the policy and the regulatory environment must be separated.
Agbakoba said that there should be vigorous implementation of rules by NIMASA, adding that the agency must no longer be seen as a 'cash cow'.
'In my 30 years of working with NIMASA and Federal Ministry of Transport, NIMASA has always been seen as a cash cow. This is the biggest challenge in the implementation of the shipping policy,'' he said.
He further said that either the present Federal Ministry of Transport or the new Ministry of Shipping Technology should remain in the policy environment.
'What we need now is a proper framework and mechanism for the growth of the maritime sector,'' Agbakoba said.
He said that the separation of powers between NIMASA and the ministry would help in attaining the Vision 2020, saying that key shipping sector stakeholders must align with the President's transformation charter.
Agbakoba also called on the government to invest in shipping which contributed a lot to the nation's revenue.
The lawyer expressed regrets that more than 5,000 illegal vessels were trading on Nigerian waterways contrary to the Cabotage Act 2003 and asked government to stop the act.
He said some countries had seen Nigeria as a place to make quick money and rush out.
Meanwhile, the Area Controller, Nigeria Customs Service, Seme Border Command, Alhaji Sadiq Sahabi, has said Nigeria lost N1.14bn to the ECOWAS Trade Liberalisation Scheme.
The News Agency of Nigeria quotes Sahabi as saying that the amount was arrived at from six months monitoring of ETLS goods passing through the border.
'In the period under review, 1,454 trucks with ETLS compliant-goods, worth N4.12bn, were cleared under the scheme,' he said.
He said that N38.99m or one per cent was realised as revenue, the total revenue lost by Nigeria through concession stood at N1.14bn.