CHRISTIE ESSIEN IGBOKWE - MY SISTER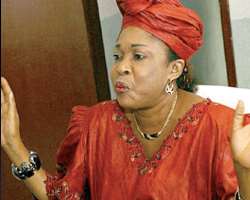 LATE SINGER CHRISTY ESSIEN-IGBOKWE.
About two years ago, Chief Edwin Igbokwe called me on phone, requesting that I pick him up at a hotel in Abuja where he just booked in. At the hotel he requested that I take him to Garba Shehu's office. That I did, not caring to ask what he was going to do there.
Something strange happened at Garba's office. After the exchange of greetings and jokes, an embarrassing silence enveloped us. I had assumed wrongly that the two gentlemen had known themselves before. Now, it was apparent they were meeting for the first time. It was my duty to introduce them to each other.
The mention of Edwin Igbokwe's name got Garba excited. He had done some beautiful write up in his column at the` COMPASS newspapers in support of the Lady of Songs, Christie Essien who happened to be Igbokwe's wife. The lady had come under fire from her home state government of Akwa Ibom over a printing machine she supplied in fulfillment of a contract awarded her by Col Yakubu Bako's Akwa Ibom regime. In a frightening display of legislative and executive tyranny, the Lady was stripped of her citizenship of the State and then both she and her husband were declared wanted people! An outraged Garba Shehu and Dr. Amanze Obi of the SUN newspapers among other columnists used their columns to lambast those behind the mindless use of power.
It was a meeting of good minds and great men – all of them my friends but greater than me. I came to know them in the course of this newspaper job and almost at the same time. In the mid eighties I met Garba Shehu in Kano when as young men we worked for the Kano State owned newspaper – The Triumph. I left him there and he rose to the very top of the newspaper and then rose to the very top of our profession as the President, Nigerian Guild of Editors. We have always been friends since we met.
At about the same time, my path crossed with that of Chief Edwin Igbokwe. By the time we met he was already a household name in the Nigerian media. He played an immodest role in the early period of The Punch newspapers. If Late Chief Aboderin and Sam Amuka were the founding fathers of Punch, Edwin must be credited with the role of the builder. At a very young age, he became the Chief Accountant of the place and eventually its pioneer General Manager and a Director. He also played a prominent role in the Newspapers Proprietors Association of Nigeria as General Secretary; a position he took over from Aremu Segun Osoba and Dr Yemi Ogunbiyi took over from him. With Chief Edwin too, we have always been friends since we met.
At the visit Edwin and Garba spoke at length with what was happening between the Igbokwe's and the Akwa Ibom State government. Garba received information that had not been available to him when he set out on his self driven crusade to defend Christie. As it turned out to his great relief, he had been right to stand by the Lady. There was ample evidence before him now to prove that the stand of the State government was based on greed, pettiness and jealousy. By going headlong into her defense without even taking time to get her own side of the story, Garba had staked his own well earned reputation as a journalist of note in Nigeria. It was a great relief to him (I could see from his countenance) that he was vindicated.
"Christie has done more than anybody I know for Akwa Ibom. In fact I cannot think of anybody from Akwa Ibom that has attained her global fame", he told the humbled husband. It was thoroughly unfair for Akwa Ibom government to humiliate its most prized indigene, Garba argued further. He said he never believed for once the scandal stories that were coming out from Uyo gainst the Lady.
My greatest joy of knowing Edwin is that I got to meet his wife and we all became so glued together that I called her my sister and she called me her brother. I admired her courage, strength and creativity. To have risen from the disadvantaged background like she did to the stardom she achieved is a once in a lifetime achievement. To complement such achievement was her infinite humility, generosity and commitment to family values. I have met many great women in my life. She is one of the greatest. This Lady brought up her four children, all of them male, and almost all of them qualified professionals today. When I lost my only sister in 2001, she called in sympathy.
In 1988, Christie came to Yola and held a Concert while I was in the government of then Gongola State. She made huge money. On the day of her departure, she shocked all of us by handing over the whole money to David Jang, our Governor, as donation for the home of the handicapped in Jada town.
Her husband Edwin is something else. His commitment to high business ethical standards, friendship and family is very rare in the Nigeria of today. When in 1988 I was saddled in Yola, Gongola State capital with a problematic printing machine, he stepped in. We bought a brand new machine from him at a giveaway price of not more than one million Naira. That machine supplied from its manufacturers in India is still working in top form today and this can be verified.
In appreciation I took him to Maiduguri, Borno State where I had a top friend in the government. They were also in the process of setting up a newspaper. A director in the Ministry of Information was detailed to meet us in our hotel room. There must have been a communication problem because the Director was ready to award us a contract for the supply of fire fighting machines and not a printing press. An unscrupulous businessman would have jumped at the offer - there was a lot of money in the deal. Chief Edwin politely refused, insisting that he was into printing machines and not fire fighting.
In 1999 I was shot in the head by gunmen near Benin. Chief Edwin, my old friend Willie Bozimo and Austin Iyashere played a role in my rescue. That I will never forget.
Edwin is still around, but I miss my sister.

Written by Emmanuel Yawe.



Disclaimer:

"The views/contents expressed in this article are the sole responsibility of the author(s) and do not necessarily reflect those of The Nigerian Voice. The Nigerian Voice will not be responsible or liable for any inaccurate or incorrect statements contained in this article."
Articles by thewillnigeria.com