STAR ACTOR MUKA RAY MOVES INTO #40 MILLION HOME+ACQUIRES TWO AUTOMOBILES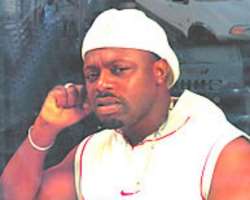 Alhaji Mukadas Eyiwunmi, popularly known as Muka Ray is really living it up at the moment.
We gathered that the versatile role interpreter has joined the league of landlords by completing his Ikorodu (Lagos) house. Not only that, he has also moved in with his family on Monday, July 11, 2011.
Located on Muka Street, Health Centre area, Oke Eletu, Ikorodu we gathered it set the talented actor back by close to #40 million.
The six bedroom bungalow, according to the source, is a sight to behold going by its architectural design.
Apart from the two large and tastefully furnished leaving rooms, the building we were told also has 19 bullet proof doors and a large car park.
Sources further reveals that Muka also bought #2 million Mazda for Iya Mariam, his wife.
Congrats Muka.