WHEN COMEDIAN KOFFI GOT ALI BABA THINKING!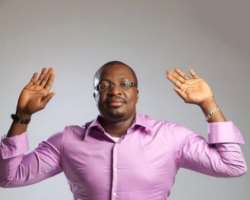 That Ali Baba is the king of comedy in Nigeria is not contestable. Which explains why so many up and coming comedians surround him at one time or the other. Some even go as far as living with him in his house in Ikoyi,Lagos.
De Don, we learnt, after a wonderful performance, got a car gift from Ali Baba and subsequently bad belles went to town and started spreading rumours that Ali Baba is using his gift to entice upcoming comedians.
This, we learnt, got the ace humour merchant so angry that he swore never to help any upcoming act again in his life.
But for words of Koffi Idowu Nuel who told him,
'Bros,na you sabi o,maybe na because of those help na him God dey bless you,if you let God vex,he fit withdraw him blessing from you o
According to source that narrated the story, those words from Koffi got Ali Baba thinking and he went down on his knees begging God for forgiveness.