NATIONAL HARMONY: WHAT MR PRESIDENT SHOULD DO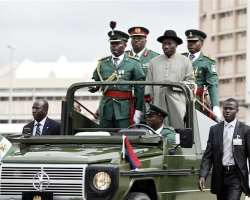 PRESIDENT GOODLUCK JONATHAN.
The life of an average Nigerian is pedestalled on agitations of what goes into the system vis-à-vis who rules the nation. Not just the personality but the section; not even only the section as diverse factors come to play. Ten has for long been regarded as a symbol of perfection. But no other figure can be close to ten than five. The out-going and in-coming president may have found reason in lifting up his five right-hand fingers to explain to fellow compatriots that he has only one plus four years to spend as the nation's helmsman. This may have been established at a storming session with the governors ahead of his party primaries. He may have remained conspicuous at this to make clear the fact that all geopolitical zones of the country had at one time or the other produced the Number One Citizen save one. More still, he may have shown his right palm to denote positive change and a necessitated procession of the olive branch to all Nigerians far and near.
Elections have come and gone but the scars loom in the souls and domain of conservatives who believed that Jonathan's emergence was inordinate and that it became a mere aberration for the ruling party to have jettisoned in practice its ever-tailored format of power shift. On a good day, the north may have had cause to be provoked by the turn of events. It felt short-changed as it alleged a change of beat in the middle of the dance. But that was a party affair. Not even an interchange of status between the incumbent and his deputy would do as they both seem to be products of same circumstance. Outside party arrangement, General Buhari had contested during Chief Obasanjo's second term bid. Within the party, it took sheer sportsmanship to step down Turaki Atiku Abubakar in his bid against his boss' second term contest in 2003.
And the fight went on. Indigenes panicked, non-indigenes took to their heels while many fell to the dazzling arrows of the assailants. To southerners, the perceived chary response by the government to the crisis engulfing Nigerians in their own country was not encouraging. At last many southern states interred their own citizens just as corps members were evacuated along state lines. Of course, it is appreciable that the affected southern states did not reprise the scenario. One could therefore imagine how many generations shall this scene be acted over.
For Nigeria as a nation, the race to self-determination has never been swift. Her purported detachment from the British Empire met still opposition from within self. Her required transformation to a growing democracy got inhibited by military incursions whose perpetrators have remained undone and yet refused to back down. Only a sufficing 'doctrine of necessity' proffered by the federal legislature did salvaged Nigeria at the departure of the dignified President Umaru Musa Yar'Adua in the year 2010. Our democracy looks like an amalgam of France and the United States of American's templates; but in theirs there is always place for paradigm shift to accommodate issues and oneness of nationhood beyond lip-service.
A change of personalities to man the presidency only seeks to provide leadership in the new order. Beliefs and values of the country have not changed. Coral Romilly's argument on shifting logical perspectives posits that legitimate problems will solutions change, and admissible problems too; and holds that scrutiny would reveal new problems as time-honoured theory is rejected and current practice too. It evaluates the tenacity of tradition when the practitioners can no longer avoid dangerous anomalies whilst existing practice is fraught with erosions and the tradition-bound practitioners oppose the tradition-shattering commitments. Consequently, at new times, earlier theory is reconstructed, and earlier fact re-evaluated. All this boils down to moving Nigeria away from statist arrangement to the realities of true federalism.
Are you a southerner, a northerner or a Nigerian? True, life is about the two faces of a coin—conflict and consensus. Could Nigeria adopt Green's alternative education in state formation paradigm, which stylishly explained early national educational systems as tools enabling officials in nascent nation-states to obtain infrastructural and symbolic power over, and thus incorporate diverse territorial residents as unified subjects of, the state. It is admissible to note the considerable ethnic diversity within the territorial boundaries of Nigeria as a stimulus for conflicts. But there is need to put the nation first. Many waters have passed under the bridge: the old wild West experience; the civil war encounter, the assassinations of General Murtala Mohammed, Sir Abubakar Tafawa Balewa, General Aguiyi Ironsi, Colonel Adekunle Fajuyi, Colonel Ibrahim Taiwo and the likes, the June '12' Saga, Niger-Delta confrontation, and lots more.
Nigerian government needs to concentrate on its on-going peace process which must continue to focus on dialogue, nation-building, and tolerance as dynamism for reconciling individuals and various groups that got disparaged by the overwhelming victory of Mr. President at the polls. There needs to be more focus on building national cohesion having addressed the historical and structural causes of the conflict to contain future reoccurrence. The fact that no one has been convicted of an electoral offence in the history of Nigeria has always given room to such reoccurrences. Shortly after the elections several perpetrators of election rigging and violence were enlisted for outright prosecution. Nigerians seem to be skeptical of this development and may have merely waited to see what goes on; they perceive that the claws of the law may have eluded a host of big guns viciously behind the scene.
The Presidential Panel of Inquiry into the post-election debacle particularly in northern Nigeria is welcomed. The Committee must not shy away from the concepts of imagination and intuition which are disciplined curiosity and are indispensable assets in problem definition. Unlike previous inquiries whose reports were dead on arrival, the Panel must see investigation as a process that fits into a context of determination of fact for decision-making purposes, and as such, an end-oriented activity. The slain compatriots deserve justice. Countrymen are scared residing in a region other than their own. How the Jonathan-led government is able to resolve this will determine the level of revamp of peace, harmony and justice in the country. It must bring to book the perpetrators of violence and the designers and promoters of a divided Nigeria, to serve as deterrence to others.
Nigeria today is different from the one some leaders used to know. Many are still living in the past believing that the then 'apes obey' slogan would do for the deployment of acts of violence and crimes against humanity. These leaders have nothing or less to lose. Their wards seldom take part in this ignominious act. Several of their wards reside abroad only to return home to follow suit as men and women the people adorn and beckon upon to lead. These disgruntled elements do not believe in empowerment of any sort. If the idle youth and women of easy virtues are empowered how would they embrace the whims and caprices of the sinister leaders who use them cheaply and dump them without benefits?
It is for change! It is time for transformation! It is time for the Nigerians, the Commonwealth, Economic Community of West African States (ECOWAS), and the African Union (AU) to rise up to the challenge of helping the largest African State to break even by encouraging key decision makers towards influencing their parties, constituents, and political candidates to desist from using violent and corrupt means to achieve their goals. Africa is crumbling. Experiences gathered from Tunisia, Egypt, Cote D'Ivoire, Libya among others were awful. The United States' prediction of the disintegration of Nigeria was swept under carpet by the Obasanjo Administration and the fifth Senate; yet, the Niger-Delta imbroglio was not resolved, Boko Haram's bombing spree has not been curtailed; these crises around all remind us of the unsolved intrinsic that seek to threaten our union and national sovereignty.
A fellow compatriot contends that "We are a time bomb waiting to explode, and our leaders better understand that. We stand at the precipice's edge because our dynamics are unique and yet frightening if not utilized well". He retorts that 'the only way to ensure the cessation of these occurrences is to provide the basics for our people to honestly pursue their daily bread on a level playing field'.
As Goodluck Ebele Jonathan takes a fresh oath of office, he will have to focus on the Nigeria we will bequeath to our children. Above all, Nigerians everywhere should endeavour to race forward forgetting the things that are behind.
Written by Gboyega Adeoye.


Disclaimer:

"The views/contents expressed in this article are the sole responsibility of the author(s) and do not necessarily reflect those of The Nigerian Voice. The Nigerian Voice will not be responsible or liable for any inaccurate or incorrect statements contained in this article."
Articles by thewillnigeria.com