WHICH PATH, NIGERIA: SOUTH SUDAN OR SOMALIA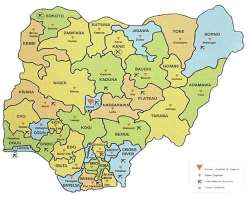 Many peoples of the world celebrate with South Sudan her recent successful evolution into a Sovereign State independent of (North) Sudan from which she just seceded. While nation-building is expected to be tough and rough, South Sudan's process leading to her current status is being hailed as exemplary and perhaps, a recommended standard solution for places in the world today faced with similar basic problems—places such as Nigeria.
After years of intractable and paralyzing warring, the result of the futile attempt at forcibly holding together mutually incompatible peoples, and of ongoing lethal cultural clashes, the concept of Self Determination was introduced to the then Sudan / Southern Sudan complex. The Self Determination compact affirmed and allowed for the exercise of the right of complete "ownership" of South Sudan's own affairs and own destiny by her people, according to their choice, which choice was later delineated and affirmed through a Referendum. This Referendum called for complete secession from Sudan, and was passed overwhelmingly by, thus clearly indicating the wish of, the people of South Sudan. The process was finally consummated a few days ago, on July 9 2011, making South Sudan the world's newest nation, and Africa's first "Self-Determined nation."
The resort to and respect and support for Self Determination also helped stop the war between the two sides while the Self Determination process ran its course; allowing for interim relatively "peaceful" (tolerable) cohabitation while South Sudan worked out and sorted out her choices. The current flurry of military hostilities at the last moment (totally uncalled for), though, presented a low-point in what otherwise marked a complete success for Self Determination. It is a horrific reminder of what might have happened without the Self Determination process.
Nigeria could use Self Determination now. For that matter, there is arguably no better mechanism to help Nigeria out of her age-old and ongoing quandary. Nigeria is made up of mutually incompatible peoples, cultures, traditions, religions and worldviews; like Sudan, it is being forcibly held together—and badly at that. As a result, Nigeria has engaged in ethnic cleansing, a genocidal war, and ethnic-based crimes and killing—all of which are continuing today, some quite obvious, others in one form or another. If "war" means "lack of security", then, it can be said that Nigeria is in fact at war—a new one—today; not counting the ever simmering one.
Unfortunately, Nigeria's response thus far has been typical: denial of the problem and denial of the fundamental issues and relevant solutions. Rather, there is a lot of pontificating, pretense, and scheming aimed at deferring the real solutions to the problem. Nigerians always want to blame their problems on corruption, poor leadership and election woes, as if those matters occur in isolation, without a context or milieu. They do not want to examine the original terms of Nigeria's existence as a State, wherein the root-problem of incompatibilities originates and is quite glaringly obvious.
For this reason, Nigeria is on the same path as Somalia. Somalia is officially recognized as a failed State; little wonder Nigeria is ranked a few steps behind her. Deny as much as Nigeria wants to, those factors which make Somalia a failed State also place Nigeria in that unenviable club. The only difference is Oil (which Nigeria usurps, high-handedly, from one of the ethnic regions) and the revenue accruing therefrom. Even so, such has also become a real curse for Nigeria, like Oil has proven to be for bumbling so-called third world countries. Therefore, Oil only adds more dysfunction to the insurmountable burden of Nigeria; being a commodity which is ethnic-based in source can also only compound matters more.
It is time that Nigeria embraced Self Determination as a permanent and effective solution. Self Determination is a win-win proposition for all the parties concerned, and it results in a win-win outcome. It is also a relatively non-violent process. Salute to Sudan / South Sudan!
Self Determination is owned by each of the peoples and exercised by each respective people. It restores true participation, choice, legitimacy, validation and dignity to the people. Like basic individual human rights, Self Determination is the collective rights of the people which are undeniable and inalienable.
If Nigeria and or Nigerians congratulate South Sudan, they should apply the same formula that worked there: Self Determination. If Nigeria / Nigerians envy South Sudan, they should emulate her and work with Self Determination. If Nigeria / Nigerians are afraid of what happened with South Sudan where Self Determination was applied successfully, then, they have certainly declared for Somalia; in that case, failed Nigeria should prepare to be worse than Somalia—and worse off, in ways too unthinkable to have crossed anyone's mind at this time.
Written by Oguchi Nkwocha.


Disclaimer:

"The views/contents expressed in this article are the sole responsibility of the author(s) and do not necessarily reflect those of The Nigerian Voice. The Nigerian Voice will not be responsible or liable for any inaccurate or incorrect statements contained in this article."
Articles by thewillnigeria.com