First Commercial Flight Lands Inside Asaba Airport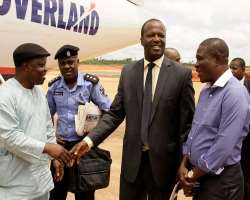 DELTA STATE GOVERNOR EMMANUEL UDUAGHAN WITH OFFICIALS OF OVERLAND AIRWAYS DURING HIS RETURN FROM ABUJA ON SUNDAY ONBOARD THE AIRCRAFT SHOWN.
ASABA, July 18, (THEWILL) - The first commercial fight with passengers from Abuja landed at the Asaba International Airport yesterday at exactly 12.17pm.
The 48-seater Overland aircraft with registration number 5N-BND arrived the airport with 20 passengers on board.
One of the passengers who spoke to reporters, Engr. Sam Arowosafe commended the standard of the airport.
Engr. Arowosafe said the completion of the airport was a good development as it would boost the economic development of the state.
"This is a good development. We are happy to be here and it will reduce cost," he said.
He was optimistic that the airport would take Delta State to the top.
Another passenger Hon. Ezechi Nwoye was full of praise for the administration of Governor Uduaghan especially for constructing the airport.
Hon. Nwoye said Asaba International Airport has made air transport easy for the people living in Anambra state.
He explained that before now they travelled to Benin Airport for all their movements but with the commencement of commercial flights in Asaba, it would cost them less to travel by air.
Emphasizing further, he said "Dr. Uduaghan is doing well. We from Anambra State will not be going to Benin again as it is easier and cheaper for us here in Asaba.
The State Governor who came from Abuja with the same Overland flight, expressed appreciation to God for a dream that has manifested into concrete reality.
Dr. Uduaghan who fielded questions from journalists said the completion of an airport takes a long time.
He explained that even the best airport in the world still has some minor works going on either in form of renovation or adding more facilities.
The Governor therefore appealed to Nigerians to be patient and follow the trend in airport development as it was not easy to completely finish work in an airport in one swoop.
Dr. Uduaghan who said his administration was not against criticism promised to welcome any form of criticism provided such criticisms was constructive.
"I welcome criticism at any time. In fact my administration is open and ready to listen to criticism provided such criticism is constructive and aimed at moving the state forward," Uduaghan said.
At the booking counter, intending passengers were seen purchasing tickets for their flights. Thereafter, they are frisked alongside their luggage with metal detectors before taking their seats in the departure hall.
One of the passengers waiting to catch his flight to Lagos, Mr. Nosakhare Edokpayi, described the Asaba Airport as very unique, convenient.
His American based-son, Idahosa Edokpayi said "the airport is world class and comparable to those in Europe and America."
An official of OVERLAND Airlines told journalists that the airline presently operates two flights to Lagos and Abuja on a daily basis.