LAGOS MONARCH, HIGH CHIEF DRAW BATTLE LINE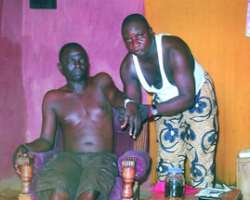 The once rosy relationship between a Lagos monarch, Oba Rafiu Salami, the Onibeju of Ibejuland, and an Ibeju High Chief and son-in-law to the royal father, Chief Kamilu Bakare, the Atayese of Ibejuland, has hit the rocks. And unless it is urgently curtailed, the smouldering fire may soon consume not only the major characters but the entire community.
The king and his chiefs are drawing their swords against each other over allegations of insubordination, kidnap, threat to life and extortion, among others.
At the centre of the controversy is the king's daughter and Bakare's wife, Toyin.
According to findings by Daily Sun, trouble started a few months ago when Toyin suddenly abandoned her husband and relocated to her father's palace with her belongings.
Toyin, who was Bakare's seventh wife, said she left her husband of four years when she was being forced to take a love oath that would permanently bind her to Bakare. She already had a baby girl for the Ibeju chief.
Things started falling apart a few days after Toyin abandoned her husband. On December 15, last year, the lady was kidnapped at gunpoint in front of her father's palace.
Her father, Oba Onibeju, promptly informed Bakare and a frantic search for her began. The incident was reported to the police, and Bakare was picked up.
After 11 days in the lions' den, Toyin was freed. Her father said he paid a ransom of N3.5 million. Bakare also regained his freedom, but that wasn't the end of the matter.
He sent petitions to the police, complaining that the traditional ruler and some other chiefs were selling hundreds of hectares of his family land illegally, threatening his life with hired assassins and blackmailing him with allegations of kidnap and armed robbery.
Distraught with Bakare's action, Oba Onibeju and his council relieved Bakare of his traditional titles of Atayese and Ilufeminiyi of Ibeju land. This was published in The Punch of May 30. Bakare's lands and buildings under development in Ibeju were also confiscated by the traditional police, the dreaded Ogboni Confraternity.
Bakare again fought back. He invited some policemen from Abuja, who reportedly invaded a meeting of the Ogboni confraternity, arresting and detaining five of the members.
Bakare claimed that when he visited one of the buildings recently, alongside his lawyer, Raji Olusegun, and some police officers, about 50 Ogboni members attacked them with charms and he was beaten unconscious. Describing the attack as unlawful, Raji said his client would soon be dragging the Onibeju to court.
This reporter recently met with Oba Salami, his daughter, Toyin and Bakare's lawyer, Raji. They explained their own sides of the matter that is causing ripples in this sprawling community in Lagos.
Bakare has offended the land and he must apologise – Oba Salami
Kamilu Bakare is my in-law. My last daughter, Toyin, had a baby girl for him and for your information, I made Kamilu Bakare the Tayese of Ibejuland. So, you can see how close we are. However, things began to fall apart between us when my daughter, his wife, suddenly indicated indirectly, her resolve to quit her love relationship with Bakare. She said she had just discovered that Bakare deceived her into the union as he did not tell her that he was already married to six women and that they all had children for him.
After that incident, my daughter was kidnapped by gunmen in front of my palace. That happened on December 15 last year. When it happened, a lot of indigenes of this land were alleging that Kamilu Bakare was responsible for her kidnap. They suspected Kamilu because the incident happened just few days after Toyin packed out of his house. But I did not listen to those people. Meanwhile the kidnappers were demanding between N400 million and N500 million before they would give me back my daughter. I had to part with about N3.5 million before she was released after 11 days. I told Kamilu Bakare about it but he didn't do anything until I got her back myself. I also reported the matter to the police. They asked me if I suspected anybody and I said I did not suspect anybody and told them to just help fish my daughter out from wherever she was.
I think they already knew that she just left Kamilu because a lot of phone calls were coming in from many people that they suspected that Kamilu arranged for my daughter's kidnap. Soon, Kamilu was arrested and taken to the SARS in Ikeja for interrogation concerning the kidnap. After investigating him on the matter, the police granted him bail and he was asked to be reporting to the station until the matter is resolved.
Ban on his buildings
This was a decision unanimously passed by five traditional rulers in Ibeju kingdom. These included Oba Tajudeeen Elemoro, the Onitedo of Oke-Odo, Oba Amusa Atiku, the Onimedu of Onimedu, Oba L. Liasi, the Onilekki of Lekki, Oba Ganiu Adegbesan, the Onise of Iseland and all the chiefs and Baales in Ibejuland and myself.
Nobody ever beat him with charms as he alleged, neither did anyone take any of his building materials. All those allegations are bloody lies. How can I send hired assassins to kill my in-law? My daughter has a baby girl, who is barely three years old, for him. How could I do such a thing? It is just a laughable allegation; it is not true at all.
He said I'm not the rightful ruler here? Well, let him go and bring his own king. In Nigeria and in all Yorubaland, once an Oba is installed, the aggrieved ones are free to go to court, so let him go to court. That is the way it is done.
The way forward
Kamilu Bakare is a native of Ibejuland; he is a son of the soil and as a royal father, everybody in Ibejuland is my child. Indeed, if anybody offends the royal father, it is only normal to punish that person to serve as a deterrent to others. What I expected of him as my in-law and a chief was to come to me and say he was sorry when the community took the decision to sack him as a chief and to seize his land and buildings. He should have said he was sorry; it is Satan's work. That is all he ought to do and the whole issue would have been settled.
Oba Salami organized his own daughter's abduction
-Bakare's lawyer
My name is Mr. Olusegun Raji of Olusegun Raji Chambers, Agege, Lagos. I am the lawyer to Chief Kamilu Bakare.
Oba Onibeju unlawfully seized some lands and buildings of my client, Chief Kamilu Bakare. We had the rumour that Oba Rafiu Salami, the Onibeju of Ibejuland ordered the Ogboni Confraternity of Ibeju-Lekki-Eti Osa axis to go to all the yet to be completed buildings of my client, Chief Kamilu Bakare, the Atayese of Ibejuland and the Ilufemiloye of Ibejuland. The said Kabiyesi used his veto power and ordered his Ogboni Confraternity to place charms on Bakare's buildings. The charms were in the form of red clothing. He did this to punish Bakare unjustly.
We found a reason for his action through our own investigations and it is to the effect that Bakare reported the Kabiyesi to the police at Abuja and he was invited. Tso the Kabiyesi, Bakare has violated the customs of the land by taking such actions. This is understood to mean that the Kabiyesi is taking the law into his hands. We also want to believe that the Kabiyesi must have given the Ogboni people some gratification to induce them to carry out the seizure of my client's buildings.
Toyin's abduction
We want to believe that the kidnap of Ms. Toyin Salami, on December 15, 2010, was arranged by her brother and in fact, the whole family of Oba Onibeju. This is because the secret number with which the kidnappers were calling the Onibeju during the time Toyin was held hostage, was later found with the Onibeju's son and elder brother to Toyin. He was arrested and detained when we reported this but he was later granted bail.
My client was called by the Kabiyesi to come to the palace, that they had agreed to pay some ransom to the kidnappers and he wanted my client to follow the other chiefs to Bayelsa State where they would get Toyin. But while my client was driving to the palace, the Divisional Police Officer of the Akodo Police Station called and ordered him to report to the police station immediately, that he had a kidnap case to answer. He promptly turned back and headed to the police station and on getting there he was confronted with some hand-written documents, which contained an allegation that he planned the kidnap of Toyin Salami. The DPO informed my client that he got the information from a telecommunications company. He was detained and was released later when Toyin was found.
I knew Bakare had many wives when our affair started – Toyin Salami
I met Kamilu Bakare about four years ago. Then, he introduced himself as the Tayese of Ibejuland. After that time, we had a relationship and I got pregnant for him.
When he came to me, I didn't know that he was one of my father's chiefs and he didn't know that I am a princess of Ibejuland. The day he saw me, he just told me that he liked me so much and that he was interested in me. Our relationship was on for about five months before I got pregnant for him.
Did I know he was married? Yes, I knew that he was married with four wives but I didn't want to marry him. I just wanted to have a relationship with him for some time and then quit the affair. But then, I got pregnant for him. Even when that happened, I didn't tell him because I wanted to abort the pregnancy but my mother found out about my pregnancy and reported to my father. It was my father who persuaded me not to abort the pregnancy.
When I eventually made up my mind to call it quits with Bakare, I didn't pick a quarrel with him. No, I didn't. This is because each time I wanted to pick a quarrel with him over his refusal to pay my child's school fees and feed us, my father was always intervening. My father has been shouldering the responsibility of feeding my baby and myself. Bakare has not been responsible after I gave birth to my baby.
I left because of the terrible thing Bakare and his family wanted to do to me. They invited me and the other wives to come to their family house one day and told us that we must take an oath concerning our relationship with Bakare. They said that we should inform our parents and seek their consent on it. They gave us an ultimatum. So, when I came back to the palace, I told my father about the development but he wasn't really in a mood to give a final answer. He asked me to see him later. But before I could see him again on the issue, he had travelled to Mecca. So, when the date given to us by Bakare's family came, I sneaked out of the palace to honour the invitation without telling my mum.
On getting to the family house, I was shocked to discover that we have been called for a sinister exercise. They had hired a herbalist, who was administering the oath-taking. They were asking us to swear to a very deadly and difficult oath. For instance, they said we should swear that we would not allow any other man to have sex with us except Bakare. They said if we did, terrible things would happen to us.
The second wife and I refused to do it. We said Bakare had to do the same thing for us first before we would accept to do this. But the family and Bakare himself declined, insisting that we must do it because we were women. We refused and that was when trouble started. Bakare and his family threatened fire and brimstone. They were demanding vehemently that we should do it but we refused. We probably would have been coerced into doing it if the man who is now Bakare's lawyer, Barrister Raji Olusegun, had not intervened and told them to leave me alone.
Before I left there on that day, Bakare threatened that he would make me pay for what I did.
Then on December 15, 2010, I went to the salon to make my hair. It was about 2 pm. Then a call came from Bakare again and he was demanding to know where I was. When I told him that I was making my hair in the salon, he said, 'Oh! Who are you making hair for? You are making hair for your boyfriend, abi? I will deal with you.' Then he hung up.
Then, in the evening, about 6pm, I was kidnapped in front of my father's palace by about six hefty guys who rushed out of a car that had blocked my way. They were armed with guns. They dragged me to their car and drove to a place called Oke Ogun where one could get a boat and travel to other coastal parts of the country. From there they drove to Bayelsa and took me into a thick bush.
They dragged me into the forest and pointed their guns at me, demanding that I say my last prayers. They said they had been commissioned to kill me. I was begging them frantically not to kill me, that they should have mercy on me. I was crying that I had not done wrong to anybody and that they should spare my life because of God.
After that they changed their mind and said they would use me to get money from my father. They asked me for his number and I gave them my father's number. Then they called my father and told him that they were my kidnappers and demanded the sum of N300 million for them to release me.
Did I suspect anyone? Personally, I didn't suspect anybody. But after about five days in their custody, the one that slapped me called me and confided in me that it was Bakare who sent them against me. I don't know if it is the truth or not. I didn't even believe him when he was saying that. But I believe it now because of what Bakare has been doing against my father recenly.