BLATTER RATES GERMANY 2011 HIGH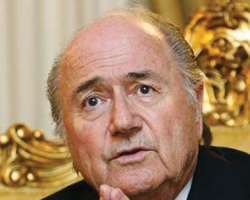 Sepp Blatter
FIFA President Sepp Blatter has said the Germany 2011 Women's World Cup is the best so far since the first competition was staged in 1991 in China.
Blatter said ahead of yesterday's final between United States and Japan, 'I'm a very satisfied President. I'd like to express my thanks for the exceptionally good organisation of this tournament. My thanks are not only to Steffi Jones and the Organising Committee, the German FA and DFB President Theo Zwanziger, and the FIFA official in charge of organisation Worawi Makudi as well as the government agencies involved. It's not possible to stage a World Cup without the assistance and guarantees given by the government.'
The Swiss was pleased with the turnout at match venues and the coverage given the competition by the international media. He said they were all pointing to better marketing possibilities and bigger tournaments in the nearest future.
He said, 'The passion remained, even after Germany suddenly stumbled in the quarterfinals. That may have caused a moment of reflection and a few rueful thoughts in Germany. But as you've all seen, the crowds kept on coming. And from an international point of view, especially on TV, viewers have suddenly seen new teams. Women's football has become more global.'
Blatter said that even though it was a lot more exciting and satisfying than expectations, FIFA would acknowledge that the doping cases involving some of the players added some sad moments to the event.
He said, 'I must admit that we still had some ugly sides to the entire event.'