EFCC, ICPC SEARCH FOR N127.1BN FROM FEDERAL OFFICIALS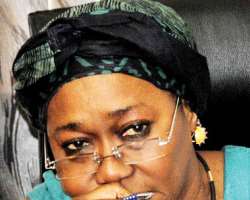 EFCC Chairman, Farida Waziri
Apparently out to shame critics of his administration on the anti-graft war, President Goodluck Jonathan on Thursday let loose the country's anti-graft agencies on his ministers, departments and agencies of government.
The President did so during the inauguration of the third batch of ministers in the State House, Abuja.
He said, 'The war against corruption in this country will start at the centre in order to send out clear signal, that no form of abuse will be tolerated.'
The searchlight of the Economic and Financial Crimes Commission, and the Independent Corrupt Practices and Other Related Offences Commission, on ministries, agencies and departments has led to the prosecution of public office-holders for alleged financial abuses.
Investigations by SUNDAY PUNCH showed that EFCC's ongoing alleged corruption cases of serving and former federal officials amount to N110.36bn, just as the ICPC last month uncovered N16.8bn financial abuses in 11 federal agencies.
Jonathan in decrying the nation's slide on the global corruption index, described it as embarrassing, and vowed to confront it in order to raise the country's integrity profile.
He said, 'The anti-corruption agencies have been directed to beam their searchlights on Ministries, Departments and Agencies of the Federal Government; and to also focus on states and local government areas.
'We will carry out a comprehensive audit of all ministries, departments and agencies of the Federal Government beginning from June 2007.
'One critical issue that will also engage our attention is the issue of corruption. There is no doubt that our rating in the Global Corruption Index is embarrassing.
'Corruption is therefore the monster that we need to confront and defeat, in order to raise the country's integrity profile. The war against corruption in this dispensation will start at the centre.'
Among the EFCC cases in court include that of a former Director-General of the Nigerian Maritime Administration and Safety Agency, Mr. Temisan Omatseye.
He was arraigned on11-count charges that bear on money laundering and abuse of office, for which 300,000 British Pounds are involved.
Similarly, a former minister of Works and Housing, Dr Hassan Lawal, is standing trial for contract award abuses and money laundering amounting to N75.7bn.
Trial of some ex-officials of Nigeria Football Federation and its board members for N1.5bn financial abuses also began on September 7, 2010.
Another two former ministers have for three years been standing trial by the EFCC over N6.8bn alleged fraud.
A former secretary of National Commission for Mass Literacy, Adult and Non Formal Education, Dr. Dayo Olagunju and 10 others, are on trial for a financial abuse worth N479 million.
These details are contained in the current EFCC journal entitled: 'Our Milestones' dated May 2011.
Also, the National Gallery of Arts, former D-G, Chief Joe Musa and four directors of the agency are facing N1.012bn alleged fraud trial, while a retired permanent secretary is facing 15bn fraud litigation.
Other agencies where the EFCC has dragged its officials either serving or former for alleged fraud are the Universal Basic Education Commission, Federal Airports Authority of Nigeria, ministry of aviation among others.
Reacting to the President's fresh focus on corruption, the EFCC spokesman, Mr. Femi Babafemi, said on Friday, that his charge would further spur the commission to greater heights.
He said, 'We see it as an encouragement to propel us to do more on the fight against corruption.'
To show his government's seriousness, the President organised a retreat on anti-graft at the State House, where the EFCC Chairman, Mrs. Farida Waziri, delivered a lecture to the new ministers.
At the ICPC, Jonathan's directive was seen as a challenge for operatives of the agency to be more active in their responsibilities.
Its Resident spokesman, Fola Olamiti said, 'The president's directive is a soul lifting pronouncement on the fight against corruption. We have been investigating capital projects and expenditure in ministries and government agencies. They are now cautious about tampering with public funds.'
He explained that since 2003, the ICPC had instituted a regime under which over N33bn unspent project funds was returned to government's treasury.
He explained, 'Before now, every year the unspent money was usually shared in the agencies, but now, they are returning it because of ICPC sanctions.'
The Auditor-General of the Federation, Mr. Samuel Ukara a fortnight ago, told the leadership of the House of Representatives that Public Accounts report, sent annually by his office to the National Assembly since 1999, had not been considered.
The Punch had exclusively reported this matter in 2010.
A source said that lawmakers' dereliction of duty on the subject had encouraged corruption in public service.
He said, 'Records have shown that none of the said audit report, the current one inclusive has been discussed at the plenary sessions with sanctions where necessary in order to straighten the constitutional mandate of the office of the Auditor-General of the Federation.'
He noted that 134 MDA's owed government varied sums in tax, while their officials misappropriated several billions.
Already, a system review of 11 government agencies and ministries had uncovered N16.8bn fraud that was achieved through insider dealings, excess expenditure, fund diversion, inflation of contracts, payment for work not done and outright theft through forgery.
Top on the list of the indicted agencies were the Power Holding Company of Nigeria and the Nigeria Customs Service, where under the watch of officials of the service, forged documents were used to divert 10 containers of power equipment valued at N15billion out of the ports.